May 25, 2019 · Doors open at 19:00
Sponge
Sponge has proven to be one of the Motor City's heaviest hitters after gaining international notoriety with their debut album "Rotting Piñata" (Sony). Emerging from Detroit with hits like "Plowed" and "Molly (16 Candles)" Sponge received massive airplay on radio stations from coast to coast and were in heavy rotation on MTV. Both "Plowed" and "Molly" hit #5 on Billboard's Modern Rock Charts, catapulting "Rotting Piñata" to Gold, and ultimately Platinum status.
Sponge's follow up CD, the critically lauded "Wax Ecstatic" (Columbia) scored additional top ten Billboard hits including "Wax Ecstatic" and "Have You Seen Mary?" The band's music was also featured in popular movies "The Craft," "Chasing Amy," "Mall Rats" and "Empire Records." Sponge's star continued to rise with network appearances on "The Late Show with David Letterman" and the "Conan O'Brien Show."
Sponge's subsequent releases "New Pop Sunday," "For All The Drugs in The World," "The Man," "Galore Galore," and "Destroy the Boy," showcased the band's swirling sonic attack, rooted in 70's glam and of course, the Motor City influences of The Stooges, The MC5 and Motown-but still sounding distinctly like no one else.
"Plowed" continues to be the band's signature rock track, having been spotlighted on Guitar Hero's "Warriors of Rock – 90's Rock Track Pack" – and on the Paper Jamz Guitar Series 2, in addition to the soundtrack for the Gerard Butler surf movie "Chasing Mavericks."
Oliver James
His powerful full-length debut, Chasing The Sun (Wire & Wood Recordings LTD), is an emotionally rich journey with exquisite songcraft, painful realities, and an epically cinematic production aesthetic.
"I called it Chasing The Sun because you simply can never catch the sun, and if you could, you'd melt. So the metaphor represents hopes, dreams, decisions and ramifications," he says.
Prior to issuing his well-crafted 8-song debut, Oliver tested the waters by releasing the beautifully haunting ballad "Keep Breathing." The song is a deeply moving tribute to the men and women in the armed services. It is a boldfaced plea for those who place themselves in harm's way to come home to their loved ones – alive. "Keep Breathing" quickly earned 10,000 radio spins and critical acclaim. Mossip.livejournal.com said: "Keep Breathing' is the first single from Oliver's upcoming album, and in short, it is the perfect power ballad." Yousingiwrite.com praised: "'Keep Breathing' is complete of emotions. Somber yet hopeful, inspiring and tragic, the music ascends at the most opportune moment and grabs the listener's undivided attention. With the wishful notion that all soldiers come home alive, a universal concept that many would agree on, James' debut release is sure to leave a mark."
Chasing The Sun is boldly sincere with a production aesthetic that is both elegantly restrained and sweepingly grand. Each tune is addressed individually and produced in a way that's authentic but also tastefully theatrical. The gorgeously somber "Before He Turned The Gun On Himself" has an elegiac 15-piece orchestra and David Letterman's Late Night Gospel Choir soul-saving backup vocals. The goose bump-inducing pop-rock of "Running Back To You" is lean and muscular, tailored to Oliver's pristinely urgent vocals with full-bodied guitars and a driving rhythm section.
Fuzz Huzzi
Fuzz Huzzi has been a mainstay of the San Diego music scene since 1994. After a brief hiatus they are back with a fresh line up and new batch of songs. The trend of very personal and emotional lyrics with a high intensity live show for which the band gained renown over the years strives to reach new hights.
The future for Fuzz Huzzi has never looked so bright. With a new release in 2019 and an ever growing live schedule, the band is determined to build on their legacy rather than sit back and simply relive past victories.
RDG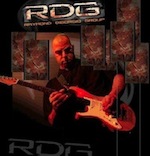 2003 Los Angeles Music Awards Winner "Instrumental Album of the Year"
2003 Los Angeles Music Awards Nominee "Guitarist of the Year"
2003 San Diego Music Awards Nominee "Best Rock Album"