October 14, 2021 · Doors open at 19:00

Geoff Tate
Can't you feel it coming? EMPIRE! Can't you hear it coming? EMPIRE! Here comes 2020 and that sound you hear and vibration you feel is GEOFF TATE and his band, Operation: Mindcrime, gearing up for their forthcoming tour of America beginning next spring that will celebrate the 30th Anniversary of EMPIRE. Released in August of 1990, the album spawned six singles ("Empire," "Silent Lucidity," "Best I Can," "Jet City Woman," "Another Rainy Night (without you)" and "Anybody Listening?") and is Queensryche's bestselling album to date with sales over three million units, achieving triple-platinum status.
GEOFF and the band — currently comprised of Kieran Robertson on guitar, Jack Ross on bass, Scott Moughton on guitar and Felix Bohnke on drums — will be performing all eleven songs from the album back-to-back, in its entirety. And to throw it completely over the top, the forthcoming shows will be kicked off by a complete performance of Queensryche's second studio album, Rage for Order, another eleven song gem that featured the singles, "Gonna Get Close to You," "The Whisper" and "Walk in the Shadows." Just a few years after its release in the summer of '86, Kerrang! magazine called it one of the "100 Greatest Heavy Metal Albums of All-Time."
That's right, both "Rage for Order" and "Empire" all in one night!
Kurt Deimer
To call him a Renaissance man would be a bit melodramatic, but in the few short years since – armed with an inability to take no for an answer, a drive to constantly improve his craft, and an insatiable desire to network and keep expanding his rolodex – Kurt Deimer has filmed a feature length movie aimed to launch his 'Hellbilly Hollow' horror franchise, recorded more than two dozen songs with legendary producer Chris Lord-Alge, whose credits include Green Day, Joe Cocker, James Brown and the Rolling Stones, and is co-managed by Andy Gould, the former manager of Rob Zombie and Guns N Roses.
America will meet his missives this fall, when Kurt Deimer supports Geoff Tate on an expansive cross-country tour that will highlight material from the forthcoming EP, which includes a duet with Tate and a trilogy of music videos directed by Scottish filmmaker Paul Boyd [Sting, Deadmau5, The Cult] that spotlight Deimer's cinematic vision and charismatic presence.
RDG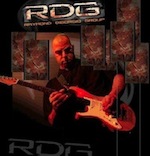 2003 Los Angeles Music Awards Winner "Instrumental Album of the Year"
2003 Los Angeles Music Awards Nominee "Guitarist of the Year"
2003 San Diego Music Awards Nominee "Best Rock Album"
Pet Shark
Pet Shark is a progressive rock, instrumental band from Orange County, California featuring and co-founded by Keith Moreland on guitar, and Ted Morton on drums, percussion, keyboards and other various sound effects.
Bass Guitarist Matt Bissonette recorded on the first and second album, but because of his busy recording and touring schedule (with Elton John), he is not able to join the band for the live shows. So they've been joined by bass guitarist Russ Reshaw who has been on the road with the band Two or More for the last ten years, playing over 120 dates per year. Russ has also performed with Bobby Kimball, former lead singer of the band Toto. Russ is an amazing bass player, but best of all, he's a great guy. The band is very pleased to have him.
They are all seasoned professionals both in the studio and at live performances. Collectively, they have played with such musicians as Crystal Lewis, Dennis Agajanian, Darryl Mansfield, John and Anne Barbour, Steve Camp, Terry Clark, Two or More, Bryan Duncan, Bobby Kimball, and countless others.