North County San Diego's Premiere Concert Venue
| | |
| --- | --- |
| Don't believe us? | |
Upcoming Events
Doors open at 7:00 pm
Uli Jon Roth
Uli Jon Roth is a true multi-instrumentalist who writes his own musical scores and arrangements. He is also a music director, paints realistic oil paintings, writes his own poetry as well as philosophical treaties.
Uli invented his own unique instrument – the by now legendary 6-octave Sky guitar which is without peer.
He produces his own albums and directs his own videos. Artistically he has been an inspiration to many of his fellow artists as well as his audience and continues to be so. He has been cited by countless guitarists from all over the world as one of their main influences.
Widely recognized as perhaps the single most important protagonist of Neo-classical guitar playing, Uli is seen by many as a trend-setter who has often been considerably ahead of his time.
Pet Shark
Pet Shark is a progressive rock, instrumental band from Orange County, California featuring and co-founded by Keith Moreland on guitar, and Ted Morton on drums, percussion, keyboards and other various sound effects.
Bass Guitarist Matt Bissonette recorded on the first and second album, but because of his busy recording and touring schedule (with Elton John), he is not able to join the band for the live shows. So they've been joined by bass guitarist Russ Reshaw who has been on the road with the band Two or More for the last ten years, playing over 120 dates per year. Russ has also performed with Bobby Kimball, former lead singer of the band Toto. Russ is an amazing bass player, but best of all, he's a great guy. The band is very pleased to have him.
They are all seasoned professionals both in the studio and at live performances. Collectively, they have played with such musicians as Crystal Lewis, Dennis Agajanian, Darryl Mansfield, John and Anne Barbour, Steve Camp, Terry Clark, Two or More, Bryan Duncan, Bobby Kimball, and countless others.
Taz Taylor
Taz Taylor was exposed at a very early age to the golden era of Rock Guitar playing. Michael Schenker in UFO and then in his own band MSG, Gary Moore in his late-70s/early-80s heyday, Randy Rhoads and Jake E. Lee and of course the early Van Halen albums, all left an indelible mark on the musical psyche of Taz.
---
Doors open at 7:00 pm
Gary Hoey
Neon Highway Blues, Gary's latest release, carries its 11 tracks with the confidence and assuredness of a veteran,and the freshness of someone who's still in the process of discovery and refinement –with the help of famous friends such as Eric Gales, Lance Lopez, Josh Smith and Hoey's 17-year-old son Ian Hoey. The release of Neon Highway Blues will, of course, take Gary Hoey back on the highways and byways for plenty of touring and playing, well, the blues –and more. He can't yet predict where the next road will take him, but Hoey is confident it will be an adventure.
Whether he's playing scorching originals or classic rock covers, his solos are thrilling and reminiscent of Clapton or Stevie Ray in their fiery youth. One thing that remains consistent is Hoey's impassioned command of the guitar. He can attack his instrument with feral intensity and then play something very soft and achingly beautiful. This ability to mix feeling, phrasing, technique and tone is the true mark of a master guitarist.
---
Doors open at 7:00 pm
Brand X
BRAND X are recognized as true musical pioneers, as they helped create an entire musical genre and influenced a broad spectrum of musicians and bands.
Brand X were a British jazz-rock fusion outfit formed by Genesis drummer Phil Collins and Atomic Rooster guitarist John Goodsall as a side project from their regular groups. Their initial lineup also included keyboardist Robin Lumley and bassist Percy Jones (the Liverpool Scene, the Scaffold). Brand X's debut album, Unorthodox Behaviour, was released in 1976; a live album, Livestock, and the studio effort Moroccan Roll followed in 1977. Collins left the group to concentrate on Genesis, and for 1978's Masques, he was replaced by Al Di Meola drummer Chuck Burgi, as well as additional keyboardist Peter Robinson, who had played with Stanley Clarke. Three further albums — 1979's Product, 1980's Do They Hurt?, and 1982's Is There Anything About? — followed before the group disbanded. In the mid-'90s, Lumley, Goodsall, and Jones reunited, issuing several live collections in the years to follow.
Pet Shark
Pet Shark is a progressive rock, instrumental band from Orange County, California featuring and co-founded by Keith Moreland on guitar, and Ted Morton on drums, percussion, keyboards and other various sound effects.
Bass Guitarist Matt Bissonette recorded on the first and second album, but because of his busy recording and touring schedule (with Elton John), he is not able to join the band for the live shows. So they've been joined by bass guitarist Russ Reshaw who has been on the road with the band Two or More for the last ten years, playing over 120 dates per year. Russ has also performed with Bobby Kimball, former lead singer of the band Toto. Russ is an amazing bass player, but best of all, he's a great guy. The band is very pleased to have him.
They are all seasoned professionals both in the studio and at live performances. Collectively, they have played with such musicians as Crystal Lewis, Dennis Agajanian, Darryl Mansfield, John and Anne Barbour, Steve Camp, Terry Clark, Two or More, Bryan Duncan, Bobby Kimball, and countless others.
---
Doors open at 7:00 pm
Gethen Jenkins
With his powerful, gut wrenching, baritone sound, Gethen Jenkins is on a fast train to stardom. Gethen is an award winning singer and songwriter from Huntington, West Virginia. His songs are of considerable depth and meaning, driven by passion, and full of heart and spirit which are sure to run the gamut of human emotions.
"The relationship between the listeners and music is what I feed on."
Gethen's journey began surrounded by American music, from the purest of Bluegrass to whiskey soaked Honkytonk. Music took hold at the age of eight, beating on his dad's Gibson guitar. His teenage years were spent in Galena, a rural indian village on the Yukon River, deep in the Alaskan tundra. After 8 years in the U.S. Marines, Gethen landed in Southern California. Returning from Iraq, determined to sing his own song, he found a home in Country Music with his five piece band The Freightshakers (since revamped as Gethen Jenkins). Over the next several years Gethen immersed himself in his music, working hard to create a unique sound keeping true to his roots.
"This hard-driving, honky-tonk group lead by Gethen Jenkins is a perfect way to spend any night, wherever it may take you." – National Country Review
Sharing the stage with a range of artists from Marshall Tucker Band, David Allan Coe, Billy Joe Shaver, Red Simpson, Dale Watson, Junior Brown, Shooter Jennings, Wanda Jackson, and Asleep at the Wheel, this band is just getting started.
Farm Truck
Farm Truck is an original Alt. Country band based out of San Diego's east county. Led by lead vocalist and principle songwriter, Craig Fischer and Lead Guitarist Tim Edwards, Heavily influenced by rock bands such as Tom Petty and The Heartbreakers, The Rolling Stones, and The Replacements, as well as Texas Red Dirt artists Reckless Kelly and Cross Canadian Ragweed, Farm Truck delivers a new, yet familiar, rural rock sound that sound from San Diego's backcountry.
---
Doors open at 7:00 pm
Moonshine Bandits
Backwoods bravado, patriot's pride, country soul, keg-thumping beats — these are the qualities that Moonshine Bandits have championed since they began their journey. Armed with a hybrid arsenal of country and hip hop fusion, the California duo of Dusty 'Tex' Dahlgren and Brett 'Bird' Brooks are back with the grittiest, spirited and distinctly grass-roots release of their sixteen year campaign of musical badassery – "Gold Rush."
Since their formation in Los Banos California in 2003 the Moonshine Bandits have continued a campaign of crossover genre-bending musical mayhem that appeals to the eclectic, color-outside-the-lines tastes of listeners, aka The Shiners, and they fiercely refuse to have their tastes confined and filed into categories. "Our musical style has always been full throttle and in your face," says Moonshine Bandit Tex. Just like the rumrunners, bootleggers, smugglers and outlaws of old – the Moonshine Bandits provide a supply of the goods for the demand, defying the mandates and trends of mainstream pop culture.
---
Doors open at 7:00 pm
Allison Chains
Allison Chains is the world's only all-female tribute to Alice In Chains.
Based out of Los Angeles, the band delivers heavy metal riffs, hypnotic acoustic sounds, and unique harmonies, creating the haunting, tortured sound that put Alice In Chains at the forefront of Seattle's early "grunge" bands. These extraordinary female rockers are seasoned, accomplished performers with many individual achievements and awards. They authentically recreate Layne Stayley's wailing rage, Jerry Cantrell's melodic guitar fervor, Mike Starr and Mike Inez's powerful bass lines, and Sean Kinney's grinding rhythms. Allison Chains performs songs from every classic album: Facelift, Dirt, Alice In Chains, Sap, and Jar of Flies. The Allison Chains AIC music tribute brings you back to the early 1990's when hair bands were receding, grunge was all the rage, and flannel was in high fashion.
2Hot 2Handle
2Hot 2Handle (2H2H) is an all-female tribute to the legendary band UFO and also to the Michael Schenker Group. Based in Los Angeles, 2H2H was created in 2016 and immediately gained attention…even from U.F.O. themselves. Their energy, passion, and talent has earned the respect of those who said it couldn't be done. They are fun to watch too, and some of the unplanned antics of band members have made for very entertaining performances!
---
Doors open at 7:00 pm
Copper Chief
Copper Chief is a band out of Austin, TX with deep roots compromised of four country boys that just love to rock n' roll. Made up of Mike Valliere on rhythm, Rio Tripiano on lead, Justin Lusk on bass and John Jamall II on drums, the band formed in the fall of 2015 and quickly after recorded their debut, self-titled album. Their music can be described as a breath of fresh air while puffing your favorite smoke. The band draws from every corner of the musical canon while touching on several southern sounds that come together to birth an unforgettable and unique sonic experience.
---
Doors open at 7:00 pm
Last In Line – The original Dio band
What started as a casual Dio band reunion jam in a Los Angeles rehearsal room in 2011 has grown into a fully-fledged project that has taken on a life of its own. Last In Line, the band, takes its name from the second Dio album released in 1984. Vinny Appice, Jimmy Bain and Vivian Campbell were Ronnie Dio's co-conspirators and co-writers on the "Holy Diver", "Last In Line" and "Sacred Heart" albums – these records have gone on to become part of rock history. During that first jam it was apparent that the chemistry of the original band was very much intact – even after a 27 year hiatus.
The excitement generated by that rediscovery led to a second session, where this time they called in acclaimed vocalist Andrew Freeman. Hearing Andrew's interpretations of the original Dio songs was a revelation and the inspiration to move forward as a band. Over the ensuing years a handful of local LA shows led to a handful of overseas shows in the U.K. and Japan, and eventually to an offer from Frontiers to record a new album of original material.
During the course of 2014 the band wrote and recorded with longtime friend Jeff Pilson as producer. Jeff very much captured the organic crunch of the band and the very best in Andrew's voice and delivery. Last In Line's acclaimed debut album, "Heavy Crown" was released in February 2016, with the singles "Devil In Me" and "Starmaker" leading the charge.
The release was preceded by tragedy, when bassist Jimmy Bain passed away, another great musician taken from us far too soon. Bringing in renowned and long time friend bassist Phil Soussan and keyboardist Erik Norlander the band went on to tour the world playing festivals and packed houses everywhere. Playing the classic Dio tunes and a mix of tracks from "Heavy Crown" fans got to hear the classics and future classic songs.
2017-2018 brings Last In Line into the studio to record "Last In Line II" an even stronger mix of original songs, again produced by Jeff Pilson. Tour dates coming for 2018/2019 in support of the upcoming release on Frontiers Records.
Sledd
Sledd is a five piece, hard hitting, Heavy-Alternative, Album Orientated Rock, Musical Group from San Diego, CA. The Band was founded by Lead Vocalist/Frontman Cary Rothman, Keyboardist/Vocalist Peter DeLuke Jr and Brother/Drummer Dino DeLuke in March of 1995.
Sledd has played with, opened for, or toured with such legendary Hard Rock Musical Groups as: Tesla, Great White, The Bullet Boys, Gilby Clarke, Blue Oyster Cult, Dokken, Quiet Riot, Queensryche, Ratt, LA Guns, UFO, Skid Row, Cinderella and Y&T.
Their latest and third Album "Insane Laughter" has received National Airplay in several United States Cities. In April/May 2009, Sledd members along with Executive Producer and Tesla Bassist Brian Wheat recorded a four song EP at "J" Street Studios in Sacramento, CA. All four cuts later appeared on the self produced Sledd CD "Insane Laughter". Sledd's second Album "Crooked Smiles" was produced by Great White Guitarist Mark Kendall. Kendall also managed the Band from 2001 – 2003.
Symbolic
As a heavy-hitting dynamic force hailing from the power/prog metal midst of the San Diego, California music scene, Symbolic combines their melodic energy and excitement for what will be their fifth CD later this year.
Since the first three years of their conception, increasingly impressive efforts helped build a strong following locally and internationally. Opening for well-known national acts such as Adrenaline Mob, Fates Warning, UFO, Brian Wheat (of Tesla fame), PHILM with Dave Lombardo, guitar legend Michael Schenker, Doro Pesch and others, it was no surprise that Symbolic found themselves in very close company of great music notables.
RDG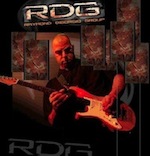 2003 Los Angeles Music Awards Winner "Instrumental Album of the Year"
2003 Los Angeles Music Awards Nominee "Guitarist of the Year"
2003 San Diego Music Awards Nominee "Best Rock Album"
---
Doors open at 7:00 pm
VIP experience at 6PM includes: a ticket to the show, early entry into the venue, an intimate acoustic performance, & a group conversation with Gungor, The Brilliance & Propaganda.
Gungor
Michael and Lisa Gungor are curators of the Grammy-nominated musical collective simply known as Gungor. The duo uses their skills as accomplished song writers and multi-instrumentalists to tell honest and forthright stories – some personal and some allegorical. Together they've tapped their considerable musical reserves to blur genres and break expectations creating a unique magnetic expression.
Gungor is in the midst of their most ambitious endeavor to date called One Wild Life, which is comprised of three full-length albums – Soul, Spirit and Body. On August 7, 2015, they kicked off the album trilogy with One Wild Life: Soul, which debuted as the #15 album on the iTunes Alternative chart. "One Wild Life: Spirit," released on March 25, 2016. The final piece of the album trilogy concludes with One Wild Life: Body, which releases on September 30, 2016. While each record carries with it its own distinct vibe, the album series presents a body of work that celebrates the adventure and challenges faced by Michael and Lisa Gungor since the release of their album I Am Mountain in 2013.
The Brilliance
---
Doors open at 7:00 pm
Queen Nation
There is little doubt among the pure rock community that the legendary band Queen and lead performer Freddie Mercury earn high ranks as one of the most powerful and iconic groups in rock history. Upon his death in 1991, a huge void was left in the rock concert world, which to this day has not yet been matched.
Queen Nation, a tribute to Queen, was formed in 2004 by David Hewitt / DMHE Music Agency. Queen Nation consists of: Gregory Finsley on vocals & keyboards as Freddie Mercury, Mike McManus on guitar as Brian May, Pete Burke on drums as Roger Taylor, and Parker Combs on bass as John Deacon. The mission of the show is to carry on the musical torch and pay homage to the golden age of vintage Queen concerts. In 2013 Queen Nation was recognized as The World's Greatest Queen Tribute by Mark Cuban, Ryan Seacrest and their cutting edge network AXS TV. Queen Nation was given a 1hr LIVE national broadcast from the Roxy in Hollywood, to 40 million viewers. A coinciding compilation album was released by AXS TV featuring two tracks recorded by Queen Nation. Most recently, Queen Nation was selected by The Los Angeles Angels of Anaheim baseball team to perform on the infield of Angel Stadium as part of their Flashback Weekend.
Queen Nation's live 100-minute production of Queen's greatest hits preserves the image, sound, and stage persona of vintage Queen. Audiences are amazed at the accuracy of Queen Nation's live retrospective journey through such Queen songs as We Will Rock You – We Are The Champions – Bohemian Rhapsody – Crazy Little Thing Called Love – You're My Best Friend – Another One Bites The Dust – Under Pressure and many more. They have performed in front of thousands of people at casinos, fairs, sports arenas and private affairs.
---
Doors open at 5:00 pm
T.S.O.L.
T.S.O.L. is an American punk rock band formed in 1978 in Long Beach, California. Although most commonly associated with hardcore punk, T.S.O.L.'s music has varied on each release, including such styles as deathrock, art punk, horror punk and other varieties of punk music.
Radolescents
Radolescents (featuring Rikk Agnew and Casey Royer) play the Adolescents blue album in sequence in it's entirety + All 3 songs from Welcome to Reality EP.
---
Doors open at 7:00 pm
Sponge
Sponge has proven to be one of the Motor City's heaviest hitters after gaining international notoriety with their debut album "Rotting Piñata" (Sony). Emerging from Detroit with hits like "Plowed" and "Molly (16 Candles)" Sponge received massive airplay on radio stations from coast to coast and were in heavy rotation on MTV. Both "Plowed" and "Molly" hit #5 on Billboard's Modern Rock Charts, catapulting "Rotting Piñata" to Gold, and ultimately Platinum status.
Sponge's follow up CD, the critically lauded "Wax Ecstatic" (Columbia) scored additional top ten Billboard hits including "Wax Ecstatic" and "Have You Seen Mary?" The band's music was also featured in popular movies "The Craft," "Chasing Amy," "Mall Rats" and "Empire Records." Sponge's star continued to rise with network appearances on "The Late Show with David Letterman" and the "Conan O'Brien Show."
Sponge's subsequent releases "New Pop Sunday," "For All The Drugs in The World," "The Man," "Galore Galore," and "Destroy the Boy," showcased the band's swirling sonic attack, rooted in 70's glam and of course, the Motor City influences of The Stooges, The MC5 and Motown-but still sounding distinctly like no one else.
"Plowed" continues to be the band's signature rock track, having been spotlighted on Guitar Hero's "Warriors of Rock – 90's Rock Track Pack" – and on the Paper Jamz Guitar Series 2, in addition to the soundtrack for the Gerard Butler surf movie "Chasing Mavericks."
---
Doors open at 7:00 pm
Mike and the Moonpies
Mike and the Moonpies is an American country and Americana band based in Austin, Texas. It was formed by singer-songwriter Mike Harmeier in 2007. Its members are Harmeier and drummer Kyle Ponder, guitarist Caitlin Rutherford, bassist Omar Oyoque, and steel guitarist Zachary Moulton.
---
Doors open at 7:00 pm
Revolucion de Amor
Somos el tributo del mejor grupo de rock en español MANÁ.
Tocamos en todo el mid-west y parte de Nueva York.
RDA trae y da lo mejor en cada evento que se presenta.
---
Doors open at 7:00 pm
Maiden USA
In just a short amount of time Maiden USA has already established themselves as the most authentic Iron Maiden tribute band in the United States. Maiden USA delivers a high powered show and captivates the audience with all the songs the fans want to hear. Maiden USA delivers the sound, look and feel of a real Iron Maiden show. Each musician is a top notch professional with recent success in other bands that have toured worldwide. We have tens of thousands of people following us on social media begging for us to come to their city.
---
Doors open at 6:00 pm
6 String Showdown
The 6 String Showdown is a blues guitar competition developed for musicians, by musicians. The goals of this competition are threefold, the final result being the crowning of The Best Blues Guitarist in Southern California. In 2018 the New Blues Festival introduced the biggest blues guitar event of the summer. A successful series of regional head-to-head competitions to crown Southern California's best all-around blues guitar player on the Main Stage of the New Blues Festival in Long Beach. Now, the guitar celebration of the year is back!
Presenting 6 String Showdown Season Two
Always keeping sight on the event's primary mission "to promote the future of the blues in all its forms by showcasing, supporting and providing a platform for the finest blues players on the scene," Season One laid a solid foundation. "I'd be lying if I said there wasn't a learning curve," said Media Director Rick Snyder. "But we had a great team who never lost sight of what we did well and what we could do even better the next time. After the event last year we reached out to all of the participants and asked how we could improve their experience. We've implemented changes based on that feedback."
The dream starts here!
On April 27 this year the NBF comes to Huntington Beach! On Sunday April 7, sixteen guitarists will face off at Campus Jax in Newport Beach to determine two regional finalists who will play for the right to move on to NBF Huntington Beach. There on the Big Top Stage they will go head to head to determine who will represent Orange County in the semi-finals at New Blues Festival Long Beach.
On May 26 the Los Angeles County Regionals will take place at Joe's American Grill in Burbank. Hosted by noted promoter Grandstand Jam it's filling up quickly so reserve your spot now.
The Kern County Regional Event is scheduled for Sunday June 9 at Temblor Brewing Company in Bakersfield. Thanks to new sponsor Notorious Entertainment, as an added bonus, the winner of that Regional will be provide with a slot at the Kern River Bud-Light Rock and Blues Fest in Kernville.
Our final regional competition, the combined San Diego County/Inland Empire event with take place on the Ramona MainStage on Sunday June 23. If you have not been to this excellent new venue, you're in for a great blues experience.
The Competition
This is a head-to-head, elimination style competition. Contestants will be judged on three categories: Technical Merit, Presentation, and Audience Response. While the competition takes center stage, promoting the blues, in all of its forms is also a primary goal. That is why the competition is structured so that all competitors must be well-versed in the various styles of the blues, as they won't know which they will be called upon to play until they are actually on-stage. Playing the blues is more important than shredding! Want to get the best marks from the judges? Play the blues!
After the four Regional Finalists are chosen, they will meet face-to-face on the stages of the New Blues Festival in Long Beach. The festival, which takes place on Labor Day weekend, will be our host for the Semi-finals and Finals. The semi-finals will take place on the first day, on the Golden Groove Stage. Then, on the following day, the last two players standing will face off on the Main Stage, where a winner will be crowned!
The Rewards
Each Regional contestant will receive professional photographs provided by our staff photographers, a professional video provided by Casey Reagan of musicUcansee.com. The Long Beach Blues Society will provide one year of free membership.
The winners of the Regionals will each receive a guitar ring from Jewelry by Designer Darren Simonian, a G7th Performance 2 capo with the 6 String Showdown logo laser etched into it.
The grand prize winner of the 6 String Showdown will be crowned the Best Overall Blues Guitar Player in Southern California and receive a $5000 prize package similar to that given in Season One.
It is also a primary goal of 6 String Showdown to act as a showcase for ALL of our competitors. 6 String Showdown is committed to promoting all contestants and events across all social media platforms, not limited to Facebook, Instagram and Twitter and, when available, radio, podcasts, webcasts, e-blasts and streaming media. Our Media Team is available to help provide PR, publicity and other events to maximize contestants' exposure.
Created by musicians, for musicians! We understand that musicians are not rolling in the dough. The nominal fees entry fees ($50) go to covering operating expenses. We pay our house bands. We pay our judges. We give our volunteers and interns a small stipend. We pay our guitar players to showcase in the Cavalcade. Then, we search far and wide to offer our contestants generous prizes and the best Media Coverage in the business!
---
Doors open at 7:00 pm
Jimmy Thackery
Jimmy Thackery has made his career as a musician for over 40 years, traveling the globe from big festivals to everyone's favorite neighborhood bars. A true professional musician, Jimmy gives his audience his best each and every performance, respecting and appreciating his fans along the way. His music reaches people's lives in personal and profound ways, as witnessed by the touching messages he receives during and after each tour.
Spare Keys is an all-original album, with six instrumentals and six tunes with vocals. These songs use all the keys available on guitar, running the gamut from soulful blues in Blues All Night, to heart-wrenching blues in I Even Lost the Blues and You Can't Come Back. His rock roots shine in Puttin' the Word Out and Fightin' in the Jungle, which also features howler monkeys recorded at the Xunantunich Mayan Ruins in Belize.
---
Doors open at 7:00 pm
Adelitas Way
Adelitas Way is an American hard rock band formed in Las Vegas, Nevada, United States, in 2006. The band's debut single "Invincible", broke them into the mainstream scene after the song made numerous television appearances in commercials and live sporting events. As of 2017, the band has toured with notable acts such as Shinedown, Guns N' Roses, Creed, Papa Roach, Godsmack, Theory of a Deadman, Seether, Three Days Grace, Breaking Benjamin, Deftones, Puddle of Mudd, Sick Puppies, Staind, Alter Bridge, Skillet, Halestorm, Thousand Foot Krutch and others.
The band began working on their debut album in the fall of 2008. After inking with Virgin Records, Rick DeJesus, and drummer Trevor Stafford headed for Groovemaster Studios in Chicago, Illinois where producer Johnny K awaited their arrival. Before the band started touring in support of their new record, the band expanded with the additions of bassist Derek Johnston and additional guitarist, Keith Wallen, completing the original line up. On April 17, 2009 the band released their debut single "Invincible" which, became the official theme song for WWE Superstars on WGN America as well as being featured in the Smackdown vs. Raw 2010 video game, MTV as well as the CSI Miami Finale. They also wrote a song called "It's A New Day" which was the theme song for WWE The Legacy from June 15, 2009 – September 13, 2010.
---
Doors open at 7:00 pm
UB40
Birmingham's world-famous reggae stars UB40 have announced a massive tour this year to celebrate their 40th anniversary!
Featuring UB40s five founding members Robin Campbell, Brian Travers, Jimmy Brown, Earl Falconer and Norman Hassan, and long-time members Duncan Campbell, Martin Meredith, Lawrence Parry and Tony Mullings, the band will embark on their 40 date tour across the US!
Fans can expect to hear UB40s greatest hits, including Food For Thought, One In Ten, Kingston Town, (I Can't Help) Falling in Love With You and Red, Red Wine, among many, many others.
---
Doors open at 7:00 pm
Rick Estrin & The Nightcats
Wildly fun, musically fearless and bursting with bravado, 2018's Blues Music Award-winning Band Of The Year Rick Estrin & The Nightcats have created one of the blues' most instantly recognizable sounds and no-holds-barred styles. Featuring the world-class talents of harmonica master, songwriter and vocalist Rick Estrin, guitar wunderkind Chris "Kid" Andersen, keyboard wizard Lorenzo Farrell and dynamic drummer Alex Pettersen, Rick Estrin & The Nightcats serve up sharp and incisive original blues and gritty roadhouse rock 'n' roll. With his wily and unforgettable original songs and his hipster, street-smart vocals, no one on the blues scene writes or sings like Rick Estrin.
DownBeat says, "Rick Estrin sings and writes songs like the brightest wiseguy in all of bluesland and blows harmonica as if he learned at the knee of Little Walter." Live, the band is simply unbeatable. They deliver a high-energy show capable of bringing any audience to its feet. Rick Estrin & The Nightcats' latest Alligator album, Groovin' In Greaseland, features 13 original songs, 11 by Estrin (including one co-written with Andersen), and one each by Andersen and Farrell. The band's dazzling performances bring the songs to life as richly detailed characters spill their secrets and share their stories. The Chicago Sun-Timessays, "These are serious musicians having a hotter than hot good time. It's tough to stay in your seat when Estrin and his musical cohorts get cooking."
---
Unless otherwise noted, doors open at 7:00pm and the first performance begins at 8:00pm.
Ramona Mainstage is an all ages venue. Persons under 21 must be accompanied by a parent.
All patrons must show valid photo ID.
All ticket purchases are non-refundable.
Seating not guaranteed – first come, first served.
It's here!
Updated bar
Full Liquor License
Lobby renovation
Fine Dining – Dinner and a show?
The MainCourse Restaurant is now accepting reservations.

Right next door!
Call the ticket office for more information: 760-789-7008
Ramona Mainstage on Twitter
Ramona Mainstage on Facebook
Available for private parties, receptions & meetings — contact us for more information