North County San Diego's Premiere Concert Venue
| | |
| --- | --- |
| Don't believe us? | |
Upcoming Events
Doors open at 7:00 pm
Candlebox
Emerging from Seattle's burgeoning mid 1990's grunge scene, Candlebox quickly found mainstream success with their deep, lyrically driven melodies and big radio hooks. Power anthems like "Far Behind" and "You," from their debut, self titled album exploded on to the charts propelling the album to sell more than four million copies worldwide.
Later albums would showcase their versatility between emotionally charged, brooding ballads like "Cover Me" and groove infused, straight up rock n' roll tunes including "Change" and "Arrow". The 2016 release of Disappearing In Airports found Candlebox revealing a more classic rock vibe with songs like "Vexatious" and "Supernova" driving the album to debut at #9 on the Billboard Charts.
In 2019 the band will be touring, both domestically and internationally, to support their 25th Anniversary, and the group has announced plans to start writing and recording new music in the year ahead.
---
Doors open at 7:00 pm
Savoy Brown
Ruf recording artists, Savoy Brown, are still rocking … 50 plus years after the band formed in London, England in 1965.
One of the first bands from the UK, after The Rolling Stones, to re-invent the blues in the mid-sixties, Savoy Brown, led by guitarist Kim Simmonds, continues to perform, record and influence today.
Modern rock music had its roots in the 1960's while bands, such as Savoy Brown, helped lay the foundation by combining blues, rock and psychedelia. The band is a veritable history of music, and musicians, with multiple former members going on to form bands such as Foghat, or to play for groups such as Fleetwood Mac, Black Sabbath, The Kinks and many more.
Founding member, Kim Simmonds, has a star on the Rock Walk of Fame and is recognized globally as one of the world's finest blues/rock players. Says Kim, "I enjoy entertaining, keeping the music alive and giving people inspiration".
Many of the band's original songs continue to be played on radio, TV and in movies. Shows including "CSI", HBO's "Vinyl", and a recent Jimi Hendrix movie biopic, gave life once again to Billboard hits such as "Tell Mama" and "Train To Nowhere".
These songs, and many others (from nearly fifty album releases), all hit high on the Billboard charts while Top 40 albums, such as "Hellbound Train", made the band a major concert headline act.
The band has headlined on all the world's finest stages, including the Royal Albert Hall, Madison Square Garden, Carnegie Hall and both Fillmores.
All Men Are Brothers
All Men Are Brothers Band is a tribute to The Allman Brothers Band music. We are six musicians who worship ABB and the many listeners who keep it alive!
---
Doors open at 7:00 pm
The Aristocrats
The Aristocrats (Guthrie Govan, Bryan Beller and Marco Minnemann) have released critically acclaimed albums, toured the world, and established themselves as one of the most musically original, refreshingly irreverent, and astoundingly entertaining instrumental rock-fusion acts on the planet. Call them a virtuoso supergroup if you must, but their musical high-wire act – employing random amounts of rock, jazz, pop, metal, and even traditional country – is informed by the spirit of a true band, one whose improvisational soul allows for anything to happen onstage at any moment…including the occasional wink and nod at the audience. 
The Aristocrats are touring to promote their most ambitious and exploratory studio album yet, entitled You Know What…?, and will be supported by fellow rock-fusioners, Travis Larson Band. 
Travis Larson Band
With seven studio albums and three full-length performance DVDs, the award-winning Travis Larson Band is firmly rooted as one of instrumental music's premiere acts, having worked on record with Steve Lukather (Toto), Victor Wooten (Bela Fleck), Dave LaRue (Joe Satriani, John Petrucci, Dixie Dregs), Vinx (Sting, Herbie Hancock).

Years of ambitious touring and shared live billing with notables such as Ted Nugent, UFO, Steve Morse (Deep Purple, Dixie Dregs), The Aristocrats, has established the band's reputation for live performances that masterfully deliver full throttle rock-fusion.
"Silky bends, sweet legato lines, and tuneful shred characterize Larson's playing… instrumental rock fans should catch this guy."

-Guitar Player Magazine
---
Doors open at 7:00 pm
UB40
Birmingham's world-famous reggae stars UB40 have announced a massive tour this year to celebrate their 40th anniversary!
Featuring UB40s five founding members Robin Campbell, Brian Travers, Jimmy Brown, Earl Falconer and Norman Hassan, and long-time members Duncan Campbell, Martin Meredith, Lawrence Parry and Tony Mullings, the band will embark on their 40 date tour across the US!
Fans can expect to hear UB40s greatest hits, including Food For Thought, One In Ten, Kingston Town, (I Can't Help) Falling in Love With You and Red, Red Wine, among many, many others.
---
Doors open at 7:00 pm
David Ellefson's Basstory
MEGADETH bassist, author and entrepreneur David Ellefson has announced the first dates for his "Basstory" tour, a series of limited and exclusive "storytellers" dates, starting September 21 in Portland.
Dubbed "Basstory: An Intimate Evening Of Riffs And Repartee With David Ellefson", the show combines solo bass performance with David's celebrated brand of storytelling, as he recounts intimate details of his struggles and triumphs in the name of rock 'n' roll. "Basstory"will also include special VIP meet-and-greets, exclusive merchandise, and more.
Says Ellefson: "I have always done clinics, and a few years ago did an amazing spoken-word tour in Australia to support my book 'My Life With Deth', and have always welcomed the opportunity to be able to meet and connect with fans on a more intimate level. These important parts of my professional life converged to create 'Basstory'. Not only will fans get to hear some of their favorite bass riffs, but the stories behind them. It's not often I get to get into small, intimate rock clubs, the way this all started, and I'm excited for fans to get to experience this show."
---
Doors open at 7:00 pm
ARKONA
In February 2017 Arkona celebrated its 15th birthday by tour in Russia and some neighbor countries. In 1,5 month they played more than 30 shows in different Russian cities, from Vladivostok to Saint Petersburg, and this tour has begun with a 3-hours show in Moscow, which became a good tradition. In the end of spring, together with the band Sirenia from Norway, Arkona played 17 concerts in USA and Canada. And then, in summer, the band performed at such festivals as Exit, Castle party, Brutal Assault, Leyendas del Rock, Metal on the hill etc., and also Arkona became a co-headliner on famous Folk Summer Fest in Russia.
New album "Khram" was released 19th January 2018. Some musical ideas from the previous album "Yav" were developed here, such as gloomy monumentalism and difficult music parts of nine epic compositions. The album earned high scores in European magazines. In February and March Arkona went on another European tour and played more than 30 concerts, 17 of them together with Korpiklaani, Heidevolk and Trollfest. In April and May the band performed at Stockholm Slaughter and Dark Troll festivals, and in summer musicians were well received at huge festivals like Graspop, Hellfest, Bloodstock, again at Masters Of Rock and Rockmaraton, and many others.
Metsatoll
In 2014, Metsatöll recorded a new album, "Karjajuht", followed by performances in Finland and another North American tour with ensembles Eluveitie (CH) and Tyr (FRO). In the following years, the ensemble has given concerts in different countries and continents; European tour with bands Arkona (RUS) and Svartsot (DK), UK and Ireland tours with Ensiferum (FI), Finnish tour with Korpiklaan (FI). In addition, the performance on the original and largest metal cruise ever, in "70000 Tons Of Metal".
In 2016, the compilation-album "Vana jutuvestja laulud" was, which also included two new songs; "Vimm" and "Meri ja maa". For the first of these was also recorded a video.
In 2017, a new drummer Tõnis Noevere joined the Metsatöll.
To this day, Metsatöll have given more than 700 performances in 24 states, and have sold more than 80 000 records.
http://www.metsatoll.ee/en/metsatoll/index.html
Helsótt
Helsótt is Teutonic for "FATAL ILLNESS"
Formed Feb 1st 2010 Helsótt is a melding of American Thrash/Death and Pagan Metal. Very melodic and very brutal music sets the pace for a high energy live act that can only be described as crushing.
On a National level Helsótt has toured the US and Canada with Paganfest alongside Ensiferum, Tyr, Heidevolk, and Trollfest…for Rock The Nation USA.
On a local level Helsótt has supported national and international acts such as: Finntroll, Ensiferum, Moonsorrow, Turisas, Nile, Ex Deo, Dio's Disciples, Tyr, Korpiklaani, Nevermore, Suidakra, Eluveitie, Arkona, Alestorm, Metsatöll, Kill Devil Hill, Fear Factory, Rotting Christ, Epica, Death Angel, Hate, Kampfar, Vreid, Keep of Kalessin, Warbringer, Mayhem, Destruction, Heathen, Goatwhore, Possessed Woods of Ypres, Origin, Decrepit Birth, Aborted and many more.
Dead Serial Killers
---
Doors open at 7:00 pm
Hed PE
Originally based in Huntington Beach, CA, (Hed) p.e. was founded in 1994 by frontman Jahred, whose goal was to fuse the region's long-standing punk rock heritage with G-funk-inflected hip-hop. He was shortly joined by bassist Mark who has remained alongside the band until present day. The line up is currently rounded out by guitarist Jaxon and drummer Trauma.
(Hed)p.e was snatched up by Jive Records early in its career, but it wasn't until the year 2000 when they released the album "broke" that they received mainstream success. It was this album that solidified them as a mainstay in the rock and metal community.
(Hed)p.e. released its third album "Blackout" in 2003 which continues to be their most successful album to date. The group is infamous for changing the image and style of the band and music from release to release. Infusing moments of punk, metal, rap, reggae, and rock into their very eclectic yet precise sound.
Many have asked what the name (Hed) p.e. means and stands for. According to vocalist Jahred, "The name (Hed) p.e. is a name I came up with which basically means our consciousness is connected to the planet and the planet is evolving, therefore, we as her children, evolve with her. The "p.e." originally was defined as PLANETARY EVOLUTION, and sometimes morphs to PLANET EARTH and back, but both carry the same message, the (Hed) is the symbol for consciousness. WE ARE ON THE MOTHERSHIP!"
Bloody Roots – A Tribute to Sepultura
---
Doors open at 11:00 am
Secret Ingredients
Holistic Moms Network – Ramona Chapter is ready to celebrate our first anniversary! Please join us, in cooperation with Azure Standard and hosted by Ramona Mainstage and The MainCourse restaurant for an exclusive dine-in theater screening. Have lunch while you watch the award winning film Secret Ingredients. Your ticket includes the film, lunch (two meat sandwich options + one vegetarian option, includes a side + drink), a discussion panel with local health & nutrition experts. Enter our raffle drawing for super cool winnings from companies that support clean living. Raffle tickets are $1, and all proceeds go to Holistic Moms Network, Ramona Chapter.
The efforts in this event are to celebrate and create awareness of HMN-Ramona. Get to know members and learn how you can support and become a part of our amazing community. HMN Ramona is dedicated to helping promote the importance of knowing what we are eating, how what we eat influences our health and wellness, and how we can make simple changes for the better that can facilitate life-long changes.
Feel free to reach out to us to learn, support, or donate to our amazing non-profit organization.
---
Doors open at 7:00 pm
Coffey Anderson
Coffey grew up in the small town of Bangs, Texas. His father worked at the local jail and his mother was a junior high English teacher. He attended a small town college and borrowed a guitar from a then girlfriend's dad. Learning chords in his dorm room and singing would attract his fellow college students to come and listen. After singing in a local opening slot for a band that came to town, Coffey had a small buzz. He never looked back! After record labels, felt like Coffey wasn't ready to be signed, Coffey created YouTube.com/CoffeySouthernMan and started his OWN career. Coffey used his music, comedy, and his personality to get his Youtube channel to over 100,000 subscribers. He then started producing his own albums, booking his own shows, and editing his videos in his garage. With Youtube and Facebook combined, Coffey Anderson has over 500,000,000 VIEWS. Coffey, Southern Man, standing at 6'5, currently, Coffey has sold over 500,000 iTunes downloads (without a record label), has over 107,000 YouTube subscribers, over 520,000 Facebook likes, over 31,000 Twitter followers and over 57,000 Instagram followers!
---
Doors open at 7:00 pm
Geoff Tate's Operation: Mindcrime
When most musicians record solo albums, it's because they need an outlet for material that doesn't fit the scope of their band. That wasn't the case with Geoff Tate. While there's very little on his solo debut that couldn't fit within the ever-evolving musical scope of Queensrÿche, the difference for the vocalist lies in the expression of those songs, and how they actually came to fruition.
"The problem when you're in a creative environment is keeping things fresh and invigorating, and after working with the same people for twenty years, it gets very difficult—You walk into the room, and everybody knows what everybody is going to do," explains the frontman. "There's no spark of new blood, the chemistry is very tried and true, and you just keep coming up with the same ways of expressing yourself. What's nice about doing a side project with new people, is that it's a whole new breed, and a bunch of new ideas, musical backgrounds, emotional baggage, and whatever else it takes to create. It's a whole new set of parameters, so it's all new, everyone has ideas you haven't heard before, and everyone is throwing them against the wall. It takes on a whole new life."
For Tate, that "whole new life" is a vibrant tapestry of human emotion and expression, the culmination being his eponymous 11-track offering on Sanctuary Records. "The songs are all about the strongest passion of life, which is love. It's all about the feelings that you have for somebody, how relationships work and don't work, the misunderstandings, and all that it takes to keep a relationship working. That said, it's also about stepping out on you're own and trying new stuff, and not being afraid to take that big step. That makes it kind of autobiographical, because I'm taking that step, moving out from where I've been and stepping into other areas, and that's important for people to do."
"Ask me what I believe in, I'll say compromise…" rings the opening line of the album's first track, and in those vulnerable depths of "Flood" the mood is set. The music swirls in a textured wash of soothing guitar tones and gently cascading rhythms, and Tate's vocals shower the proceedings like the most welcome of spring rains, his words glistening like a morning dew. Fans of Queensrÿche will revel in the familiar, soothing warmth of one of music's most pure voices, while new fans will find themselves lost somewhere between the melancholy of "Forever" and the hopeful effervescence of "This Moment." Co-songwriter Scott Moughton paves a tantalizing trail of Spanish-flavored guitars into "Helpless," a piano lays the path through the peaceful calm of "In Other Words," drums propel "Passenger," and "Grain Of Faith" plays like the perfect culmination of Tate's lyrical harmony and Carrell's guitar-based foundations.
"One of the most brilliant points of humanity is when you take a complex situation, and describe it in a sense that's simplistic enough for people to grasp it very easily. That's amazing, really, and that's what I try to do with songwriting—I try to take a big subject and condense it down into something very simple, maybe just a phrase, or a line, or a couple of lines that says everything. That's a tough challenge, and that's what keeps bringing me back to writing music. It's never easy, which means there's always a challenge to come up with something new and different.
"I've often had this problem of looking at the glass like it's half-empty, and I've been trying for all these years to figure out how to change that perspective. All of a sudden, I've done it, and I don't know how I did it—I think it's just sort of letting it all go, and knowing that it will change and get better. I'm definitely in a better place now than I've ever been in before, I've got a real positive outlook now," Tate offers, drawing a comparison between his solo release, and his prior body of work. "Queensrÿche seems to have angst about it, and I think that's just because of the dynamics of the members involved. This was much more of a peaceful vibe."
While a "peaceful" vibe may seem a bit askew from the voice behind Queensrÿche's Operation: Mindcrime epic, there's not a rock band around that has had the bravado to take their music in as divergent directions as Tate's full-time outfit, and that fact isn't lost on the singer. "I never tried to have a box thrown around myself and be a 'heavy metal' singer," he explains. "If you listen to a lot of Queensrÿche records, especially since Empire, we've done many different types of music and vocals, all based around guitars. 'Silent Lucidity' and 'Jet City Woman' aren't heavy metal anthems, they're just good songs, and I think this new record of mine is a greater extension of where Queensrÿche went in those directions."
Mark Daly
Acclaimed Hard Rock singer/songwriter – MARK DALY – is thrilled to unveil his debut solo album : 'When the Stars Align'.
Breaking from his masterful work with US supergroup Operation:Mindcrime, 'Addicted To The Throne' was the first taster of Daly's debut solo album: 'When The Stars Align', released on 7th September 2018.
Calling to mind the work of late greats Chris Cornell or Jeff Buckley, 'Addicted To The Throne' is a haunting lullaby barbed with brittle feedback and awash with a spine-chilling production; the single marks the opening of a darker, more mature songwriting chapter in Daly's career.
Hailing from Cork in Ireland, Mark Daly, is a powerful singer/songwriter with hard rock pedigree in abundance. In a career that has seen him rub shoulders with some of the best, Daly is perhaps best known for his role in US supergroup: Operation:Mindcrime. The group, which is led by vocalist Geoff Tate (formerly of Queensryche) who has sold over 25 million records, secured a Grammy nomination, and toured the world many times over, also included in their ranks are musicians from bands Disturbed, Ozzy Osbourne, Whitesnake and AC/DC.
Pet Shark
Pet Shark is a progressive rock, instrumental band from Orange County, California featuring and co-founded by Keith Moreland on guitar, and Ted Morton on drums, percussion, keyboards and other various sound effects.
They are seasoned professionals both in the studio and at live performances. Collectively, they have played with such musicians as Crystal Lewis, Dennis Agajanian, Darryl Mansfield, John and Anne Barbour, Steve Camp, Terry Clark, Two or More, Bryan Duncan, Bobby Kimball, and countless others.
RDG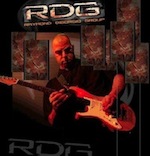 2003 Los Angeles Music Awards Winner "Instrumental Album of the Year"
2003 Los Angeles Music Awards Nominee "Guitarist of the Year"
2003 San Diego Music Awards Nominee "Best Rock Album"
---
Doors open at 6:00 pm
Jake Najor and the Moment of Truth
Over the past twenty years, when musicians and producers in Southern California have needed fresh R&B, funk, or hip hop beats, they've called on drummer Jake Najor. A former band member of Breakestra, Incredible Moses Leroy, and The Styletones, Najor has performed or recorded with scores of noteworthy artists, including TV on the Radio, Raphael Saadiq, Kelis, Joss Stone, Big Daddy Kane, De La Soul, Karl Denson, Rodriguez, Connie Price and the Keystones, and Empire of the Sun.
When not on tour, the San Diego native performs with a wide network of local musicians, including as a member of the house band for The Redwoods record label. It's with The Redwoods that the veteran drummer has taken the lead on a new project, Jake Najor and the Moment of Truth.
---
Doors open at 7:00 pm
Pat Travers
It's early 1979, and the Pat Travers Band have just been introduced and subsequently recorded for what would become one of the slickest and hottest guitar-rock albums ever committed to vinyl. "Live! Go for What You Know" was a huge success on both sides of the pond, acclaimed by their musical peers, fans, and music critics alike. It was high-energy. It was electric. It was lightning in a bottle. The album, much like the Canadian musician himself, remains an influence for a whole generation of guitar slingers.
Taz Taylor
Taz Taylor was exposed at a very early age to the golden era of Rock Guitar playing. Michael Schenker in UFO and then in his own band MSG, Gary Moore in his late-70s/early-80s heyday, Randy Rhoads and Jake E. Lee and of course the early Van Halen albums, all left an indelible mark on the musical psyche of Taz.
---
Doors open at 7:00 pm
Rick Estrin & The Nightcats
Wildly fun, musically fearless and bursting with bravado, 2018's Blues Music Award-winning Band Of The Year Rick Estrin & The Nightcats have created one of the blues' most instantly recognizable sounds and no-holds-barred styles. Featuring the world-class talents of harmonica master, songwriter and vocalist Rick Estrin, guitar wunderkind Chris "Kid" Andersen, keyboard wizard Lorenzo Farrell and dynamic drummer Alex Pettersen, Rick Estrin & The Nightcats serve up sharp and incisive original blues and gritty roadhouse rock 'n' roll. With his wily and unforgettable original songs and his hipster, street-smart vocals, no one on the blues scene writes or sings like Rick Estrin.
DownBeat says, "Rick Estrin sings and writes songs like the brightest wiseguy in all of bluesland and blows harmonica as if he learned at the knee of Little Walter." Live, the band is simply unbeatable. They deliver a high-energy show capable of bringing any audience to its feet. Rick Estrin & The Nightcats' latest Alligator album, Groovin' In Greaseland, features 13 original songs, 11 by Estrin (including one co-written with Andersen), and one each by Andersen and Farrell. The band's dazzling performances bring the songs to life as richly detailed characters spill their secrets and share their stories. The Chicago Sun-Timessays, "These are serious musicians having a hotter than hot good time. It's tough to stay in your seat when Estrin and his musical cohorts get cooking."
---
Doors open at 7:00 pm
Sebastian Bach
Original Voice of Skid Row. Winner: CMT'S 'Gone Country 2″. Broadway: Jekyll & Hyde: The Musical, Rocky Horror, Jesus Christ Superstar (National Tour).VH1: Supergroup, I Married Sebastian Bach, 40 Greatest Metal Songs, Forever Wild MTV: Celebrity Rap Superstar ABC Family: Gilmore Girls
Kobra and the Lotus
Female fronted Canadian powerhouse KOBRA AND THE LOTUS boasts 2 top 40 Billboard Mainstream Rock singles; "Light Me Up," and "Velvet Roses." The band did a full US tour with Texas Hippie Coalition last summer, and coheadlined Europe last fall with Butcher Babies.
---
Doors open at 7:00 pm
Dirty Rotten Imbeciles – D.R.I.
Dirty Rotten Imbeciles (also known as D.R.I.) are a United States hardcore punk/thrashcore/crossover thrash band that formed in Houston, Texas, in 1982. The band currently comprises founding members, vocalist Kurt Brecht and guitarist Spike Cassidy, as well as drummer Rob Rampy and bassist Harald Oimoen.
D.R.I. never gained a mainstream audience, but the integration of their hardcore punk roots with thrash metal influences was a stylistic catalyst for their contemporaries —most notably Suicidal Tendencies, Corrosion of Conformity, and Stormtroopers of Death— alongside whom they are considered pioneers of what would later be called "crossover thrash." This subgenre was also coined from their 1987 album Crossover.
---
Doors open at 7:00 pm
Anesthesia
Anesthesia is a Metallica Tribute Band made up of four fans who are absolutely committed to giving the audience the ultimate Metallica tribute experience! With an incredible energy and a commitment to playing each song note for note, Anesthesia rocks the stage with everything from Metallica's classics to their latest material! Based out of San Diego, California, Anesthesia is gearing up to play all types of shows and venues! The band has already played numerous high profile venues such as the Music Box, House Of Blues, and Oktoberfest MainStage.
OzzMania
Since beginning in 2006 Ozzmania has become the top Ozzy Osbourne/Black Sabbath tribute band in the US. Founded by vocalist Michael Reade along with band members Michael Clemens (drums) and original bassist Joey Alva, Ozzmania performs for thousands on a monthly basis with spot on impersonations of Ozzy, Zakk Wylde, Rudy Sarzo & Randy Castillo by Michael Reade, Johnny Blade, Joey Alva and Michael Clemens. Ozzmania uses all of the authentic sound gear and instruments to perfectly reproduce the live sound of Ozzy Osbourne and Black Sabbath and state of the art stage effects as well as video background affects giving the appearance of a full blown Ozzy concert.
Ozzmania covers material from all eras of both Black Sabbath and Ozzy's solo career.
---
Doors open at 7:00 pm
B*Side Players
The B*Side Players have been laying down their own inimitable latin global funk since they came together in 1994. Their incendiary live shows have defined them as local favorites with 10 San Diego Music Awards. Meanwhile their albums showcase a band with restless musical intelligence, effortlessly blending genres to fashion their own forward looking, latin flavored soul music. As a nine piece band, the players are known for igniting crowds with their fierce rhythms and uplifting message of unity and consciousness. Meanwhile always keeping their focus on the political climate of the world and nation. The B-Side Players are a living and breathing cultural art experience for the mind body and soul.
---
Doors open at 7:00 pm
Alien Ant Farm
Since the formation of Alien Ant Farm in 1995, the quartet has enjoyed worldwide success. Over the course of their four studio albums, cumulative sales surpass five million units a Grammy nomination and 4 top 10 singles. The band built a massive following on the road early in their career via high profile 2001 runs with Linkin Park, Papa Roach, Warped, and as the headliner on an MTV presented Fall Tour. In 2002, fame spread across the world, bringing Alien Ant Farm to the major European festivals, Australia's Big Day Out and a headline run in Japan. The following year they returned to Europe with Metallica, and to this day the band has steadily delivered audiences in territories across the globe.
From the beginning, the clever humor of vocalist Dryden Mitchell and guitarist Terry Corso has delivered visual imagery that made the band vanguards in the realm of music video. All of the singles released received heavy rotation on MTV and MTV2, with "Smooth Criminal" was voted the #2 video of 2001 on MTV's countdown. They appeared on the channel's programs Celebrity Dismissed, MTV Cribbs, and hosted House of Style. Alongside the massive support from cable, Alien Ant Farm were darlings of broadcast television with multiple appearances on The Tonight Show with Jay Leno, and support from Carson Daly, Extra, CNN, Access Hollywood and Mad-TV amongst many more. With all the notoriety also came a 2001 Grammy nomination for Best Hard Rock Performance in 2001.
Malaki
We are a reggae/punk/rock band from Julian Ca.
---
Doors open at 7:00 pm
Wayne Hancock
Since his stunning debut, Thunderstorms and Neon Signs in 1995, Wayne "The Train" Hancock has been the undisputed king of Juke Joint Swing – that alchemist's dream of honky-tonk, western swing, blues, Texas rockabilly and big band. Always an anomaly among his country music peers, Wayne's uncompromising interpretation of the music he loves is in fact what defines him: steeped in traditional but never "retro;" bare bones but bone shaking; hardcore but with a swing. Like the comfortable crackle of a Wurlitzer 45 jukebox, Wayne is the embodiment of genuine, house rocking, hillbilly boogie.
Wayne makes music fit for any road house anywhere. With his unmistakable voice, The Train's reckless honky-tonk can move the dead. If you see him live (and he is ALWAYS touring), you'll surely work up some sweat stains on that snazzy Rayon shirt you're wearing. If you buy his records, you'll be rolling up your carpets, spreading sawdust on the hardwood floor, and dancing until the downstairs neighbors are banging their brooms on the ceiling. Call him a throwback if you want, but all Wayne Hancock wants to do, is simply ENTERTAIN you, and what's wrong with that?
---
Doors open at 7:00 pm
Marbin
MARBIN is a progressive jazz-rock band based in Chicago, IL, with a unique story that stands out in today's music world. With a do-it-yourself approach, Marbin started touring extensively in 2011, bringing their original instrumental music to every part of the United States. Through word of mouth, Marbin has gained hundreds of thousands of devoted fans all over the world and has sold tens of thousands of albums. Marbin has released seven albums: Marbin (2009), Breaking the Cycle (2011), Last Chapter of Dreaming (2013), The Third Set (2014), Aggressive Hippies (2015), Goatman and the House of the Dead (2016), and Israeli Jazz (2018). Marbin regularly plays in clubs all over the US and in jam and jazz festivals around the world.
Ben Delaurentis
---
Doors open at 7:00 pm
Doctor Wu
The Doctor Wu Band has been thrilling fans all over Southern California since the year 2000 with Steely Dan's groovy, lyric-driven songs that have spanned the test of time. Featuring full albums as well as extended sets of fan-favorite blockbuster hits, sprinkled with deep tracks for the diehard enthusiasts, this 11-piece LA based band loves to have fun and share this iconic music. Doctor Wu's shows are guaranteed to make audiences smile, dance, and sing along… "Ain't never gonna do it without the fez on…"
What's your favorite Steely Dan tune? Each song is executed with wicked attention to detail, which has recently earned Doctor Wu international recognition. Fronted by lead singer Tony Egan, the band features rich vocal harmonies, a tasty jazz-rock rhythm section, searing guitar leads, and a studio-tight 4-piece horn section. Doctor Wu's recreation of the textures and authenticity of Steely Dan's music is simply second to none.
Band members have been featured on top selling recordings and on stages worldwide, performing with the likes of Rod Stewart, Stanley Clarke, UB40, Dionne Warwick, Chaka Khan, The Temptations, Jay Graydon, Poncho Sanchez, Rosemary Butler, Echo & the Bunnymen, and more. Join us; you're gonna love it!
---
Doors open at 7:00 pm
Drowning Pool
Giant riffs, crowd moving grooves and monstrous vocals are the tools with which DROWNING POOL build triumph out of tragedy, steadily evolve without compromise, and remain true to their supporters with over a decade's worth of remarkable fortitude and attitude. HELLELUJAH is absolutely the album their diehard fans demanded and the aggressive heavy rock world at large deserved.
The platinum-plus conquerors from The Lone Star State deliver their heaviest batch of hell raising anthems, each burning with fiery adrenaline destined to light the radio ablaze and ignite crowds into impassioned sing-alongs. Only a few seconds into the album's first single, "By the Blood," it's evident that Hellelujah is the most aggressive, ambitious, and truly definitive Drowning Pool album since Sinner, the platinum platter that gave the world Top 20 rock radio hit "Tear Away" and the massively successful "Bodies."
It doesn't get more brazenly defiant than Drowning Pool Hellelujah bangers like "We Are the Devil," "Goddamn Vultures," or "Push": forward thinking modern rock anthems incorporating classic elements of brutal grooves with melodic power that never once sounds weak. C.J. Pierce's guitar work is devastatingly crunchy yet dynamically colorful, locking in perfect sync with the charging rhythms of fellow cofounders Stevie Benton on bass and Mike Luce on drums, as Jasen Moreno's vocals forge venom and bile into hooks.
Drowning Pool have scorched the stage alongside a who's-who of genre legends, upstarts and everything else on the spectrum, including Ozzy Osbourne, Mötley Crüe, Papa Roach, System Of A Down, Kiss, Korn, Sevendust, Seether, Hellyeah, P.O.D., Five Finger Death Punch, Black Label Society and stints on Ozzfest with Metallica, Rob Zombie, and Marilyn Manson.
---
Doors open at 7:00 pm
Kim Wilson
Kim Wilson is best-known as the frontman of the Fabulous Thunderbirds, a blues/rock group formed with Jimmie Vaughan in 1974. He will be bringing his own blues band to Ramona Mainstage, performing more traditional blues.
---
Doors open at 7:00 pm
Guitar Shorty
Legendary guitarist/vocalist Guitar Shorty is a giant in the blues world. Credited with influencing both Jimi Hendrix and Buddy Guy, Guitar Shorty has been electrifying audiences for five decades with his supercharged live shows and his incendiary recordings. Like a bare knuckled boxer, Shorty strikes with his blistering, physical guitar playing and his fierce vocals, connecting directly with body and soul. What really sets Shorty apart is his absolutely unpredictable, off-the-wall guitar playing. He reaches for sounds, riffs and licks that other blues players wouldn't even think of. Amazon.com says his guitar work "sounds like a caged tiger before feeding time. His molten guitar pours his psychedelicized solos like lava over anything in his path." The Chicago Reader declares, "Guitar Shorty is a battle-scarred hard-ass. He slices off his phrases and notes with homicidal fury. He is among the highest-energy blues entertainers on the scene."
Through the years, Shorty has performed with blues and R&B luminaries like Ray Charles, Sam Cooke, B.B. King, Guitar Slim and T-Bone Walker. He started playing with these legends while still in his teens and recorded a handful of singles for a variety of labels and an obscure LP during the first 30 years of his career. After decades of paying his dues (like so many unheralded American bluesmen), it took a tour of England to establish Shorty's fame in his home country. His recordings since then all received massive critical acclaim, and his renowned live performances have kept him constantly in demand all over the world. His 2004 Alligator Records debut, Watch Your Back, became his best-received, best-selling album to date. His 2006 follow-up, We The People, won the coveted Blues Music Award for Best Contemporary Blues Album Of The Year. Now, with his new CD, Bare Knuckle, Guitar Shorty unleashes a barrage of hard-hitting combinations of guitar, vocals and lyrics, hitting his listeners with some of the most awe-inspiring guitar and vocal work of his long career.
---
Doors open at 7:00 pm
Ho Ho Hoey
This Boston born guitar player & solo artist has been touring for over two decades with 20 albums over the span of his career. Among them is his very popular, Ho Ho Hoey Complete Collection, which combines all 3 volumes of his holiday albums, capturing 37 of your favorite Christmas classics. Hoey has been a driving force behind instrumental rock Christmas music since 1995 after his version of "The Twelve Days Of Christmas" hit the airwaves with its crunchy guitars and metal flavor. Gary's annual Ho Ho Hoey Rockin' Holiday Tour has become a tradition with radio stations and families coast-to-coast. Hoey's live show encompasses everything from his holiday music to the older hits like "Hocus Pocus" to new songs from his latest album, Dust & Bones. It's a must see show for adults and kids alike.
After more than two decades of touring it's also made him fortunate enough to give back in the process, helping the Veterans with clothing drives, Toys for Tots and food drives. Hoey's music is featured in Hallmark greeting cards and the Christmas movie, "Deck The Halls" staring Danny Devito. Hoey's rockin holiday show is a family friendly all ages event. Gary comes out after every show to sign autographs and take pictures with the fans. Get together and celebrate this holiday season as only Hoey can. This year also marks his 8th Annual Ho Ho Hoey Guitar Give-Away. To enter and for more details, visit www.garyhoey.com.
---
Doors open at 7:00 pm
Struggle Jennings
Struggle Jennings was destined to be an Outlaw.. The grandson of legendary Country Music icon Waylon Jennings, Struggle is part of a long legacy of Gangsters, Outlaws and Rock Stars.. Growing up as a black-sheep in his family, he was forced to fight his way out of the streets of West Nashville, eventually making his way into the studio to laying the foundation for what would soon become his personal contribution to the Jennings family legacy.. But his past finally caught up with him in the fall of 2011 when he was arrested on State and Federal drug conspiracy charges.
After being incarcerated for 5 years, Struggle has gone through a complete transformation.. Mentally, emotionally and physically.. Through sharing his story on social media networks, Struggle has grown emotionally and intellectually, assuming a new level of social responsibility and becoming an inspirational and motivational force in the lives of people all around the world. He maintained the ability to oversee his career and his public persona through his constant communication with his management team. Struggle's message of strength, determination and courage in the face of adversity has been amplified by his daily presence on Facebook, Twitter and Instagram. With the support of Yelawolf, his Slumerican family, as well as his business partner Sebastian Marbury, Struggle managed to develop and maintain a direct connection with his fans despite his being incarcerated.
After being released from prison in January of 2016, Struggle inked a deal with Yelawolf's recently formed Slumerican record label, signaling his return and officially beginning his rise to success. With the launch of a popular documentary series on YouTube and the upcoming release of his sophomore album, Struggle is finally poised to take his place as a true modern day Outlaw and secure his position as the Godfather of the burgeoning Outlaw Hip Hop Rock & Roll movement.
---
Doors open at 7:00 pm
Queen Nation
There is little doubt among the pure rock community that the legendary band Queen and lead performer Freddie Mercury earn high ranks as one of the most powerful and iconic groups in rock history. Upon his death in 1991, a huge void was left in the rock concert world, which to this day has not yet been matched.
Queen Nation, a tribute to Queen, was formed in 2004 by David Hewitt / DMHE Music Agency. Queen Nation consists of: Gregory Finsley on vocals & keyboards as Freddie Mercury, Mike McManus on guitar as Brian May, Pete Burke on drums as Roger Taylor, and Parker Combs on bass as John Deacon. The mission of the show is to carry on the musical torch and pay homage to the golden age of vintage Queen concerts. In 2013 Queen Nation was recognized as The World's Greatest Queen Tribute by Mark Cuban, Ryan Seacrest and their cutting edge network AXS TV. Queen Nation was given a 1hr LIVE national broadcast from the Roxy in Hollywood, to 40 million viewers. A coinciding compilation album was released by AXS TV featuring two tracks recorded by Queen Nation. Most recently, Queen Nation was selected by The Los Angeles Angels of Anaheim baseball team to perform on the infield of Angel Stadium as part of their Flashback Weekend.
Queen Nation's live 100-minute production of Queen's greatest hits preserves the image, sound, and stage persona of vintage Queen. Audiences are amazed at the accuracy of Queen Nation's live retrospective journey through such Queen songs as We Will Rock You – We Are The Champions – Bohemian Rhapsody – Crazy Little Thing Called Love – You're My Best Friend – Another One Bites The Dust – Under Pressure and many more. They have performed in front of thousands of people at casinos, fairs, sports arenas and private affairs.
Taz Taylor
Taz Taylor was exposed at a very early age to the golden era of Rock Guitar playing. Michael Schenker in UFO and then in his own band MSG, Gary Moore in his late-70s/early-80s heyday, Randy Rhoads and Jake E. Lee and of course the early Van Halen albums, all left an indelible mark on the musical psyche of Taz.
---
Unless otherwise noted, doors open at 7:00pm and the first performance begins at 8:00pm.
Ramona Mainstage is an all ages venue. Persons under 21 must be accompanied by a parent.
All patrons must show valid photo ID.
All ticket purchases are non-refundable.
Seating not guaranteed – first come, first served.
It's here!
Updated bar
Full Liquor License
Lobby renovation
Fine Dining – Dinner and a show?
The MainCourse Restaurant is now accepting reservations.

Right next door!
Call the ticket office for more information: 760-789-7008
Ramona Mainstage on Twitter
Ramona Mainstage on Facebook
Available for private parties, receptions & meetings — contact us for more information