North County San Diego's Premiere Concert Venue
| | |
| --- | --- |
| Don't believe us? | |
Upcoming Events
Doors open at 7:00 pm


This show has been rescheduled from the original date of May 2, 2020.
Tickets for the original date will be honored.
More information
Easy Wind
Easy Wind has built a reputation of creating shows that pull deeply from the vibe and feel of classic '70's era Grateful Dead, a period when The Dead were firing on all cylinders of youth, exuberance, and creativity.
Coming from a virtual lifetime of studying and performing their catalog, Easy Wind cooks up setlists that would fit right in with the epic runs of Europe '72, Spring '77, or other magical runs of that era.
Easy Wind has the unique ability to embody the style, the jams, and the riffs that were the trademark of Garcia, Weir, and the rest of the band in their heyday.
The bus came by… It's time to get on and experience Easy Wind.
---
Doors open at 7:00 pm

More information
---
Doors open at 12:00 am
More information
Mötley 2
Founder Darryl Strucke started Mötley 2 when he left another tribute because his vision was to strictly adhere to the early days of Mötley Crüe with all the stage attitude, full costumes, and perfect sound to bring audiences back in time with the PERFECT show! The best artists in the industry were found, and together put a band that stays true to the look and sound of the one and only Mötley Crüe.
Based in Los Angeles California, Motley 2 is the premiere, internationally touring tribute to Motley Crue that captures the entire look , feel and sound that hard core Crue fans know and love. We have toured extensively across the nation, and have performed at casinos, bars, clubs, festivals, state fairs, concert in the parks, and corporate events, and are available for everything from family friendly events, or we can heat it up with an adult oriented show that leave crowds wanting more. Are you ready? then, let us "take you to the top"
---
Doors open at 7:00 pm


This show has been rescheduled from the original date of April 2, and again from July 9.
Tickets for the original dates will be honored.
Limited seating available for this show.
More information
Moonshine Bandits
Backwoods bravado, patriot's pride, country soul, keg-thumping beats — these are the qualities that Moonshine Bandits have championed since they began their journey. Armed with a hybrid arsenal of country and hip hop fusion, the California duo of Dusty 'Tex' Dahlgren and Brett 'Bird' Brooks are back with the grittiest, spirited and distinctly grass-roots release of their sixteen year campaign of musical badassery – "Gold Rush."
Since their formation in Los Banos California in 2003 the Moonshine Bandits have continued a campaign of crossover genre-bending musical mayhem that appeals to the eclectic, color-outside-the-lines tastes of listeners, aka The Shiners, and they fiercely refuse to have their tastes confined and filed into categories. "Our musical style has always been full throttle and in your face," says Moonshine Bandit Tex. Just like the rumrunners, bootleggers, smugglers and outlaws of old – the Moonshine Bandits provide a supply of the goods for the demand, defying the mandates and trends of mainstream pop culture.
Charlie Farle
Charlie Farley is an Arkansas born and raised artist with a passion for writing, rapping, singing, and performing with a drive to succeed in whatever he sets his mind to like no other. Farley's debut album release, Hog Heaven, turned heads all over the United States with a fresh sound that no one had ever heard.
Now a newly independent entertainer, releasing 3 EP's in a span of four months and his very own motivational quote book, Quotable., is just the beginning of Charlie's fresh outlook on his career and abilities. Charlie Farley is solidifying his place within the industry and becoming a household name.
Long Cut
Long Cut is not what y'all expected! Bryan Thomas and JT Adams have come together with a New Breed of Country Rap that has started a movement that can't be stopped!
Welcome to the Spit Cup Posse!!!
After a SOLD OUT SHOW in 2016, Bryan Thomas and JT Adams were sitting in the living room as they had done so many times before…playing music, writing lyrics, and buzzing from the show they had just played. It was years of work that had led them to this point in their careers. It was the first year Bryan Thomas and his band had began to sell out midsize theaters and it was at that time that JT Adams and his band started making a name for themselves on a regional level. The friendship that was in place started to become something special. The congruence and unity was unmatched in any project they had ever been a part of. As they sat on the couch relaxing and jamming, JT started rapping. Bryan had been playing shows with Demun Jones and had been interested in getting involved in a country rap song or project. They spent 2 years planning and finally the planets aligned and Long Cut was born!!
Since inception, Long Cut has recorded 12 songs to release in the coming year and have already started selling out shows around the country! Their fans share camaraderie and connection with the guys and are already turning into a dedicated following of all ages! The high octane fusion of hard hitting outlaw country and hip hop has the crowd going crazy! Stay tuned folks! This is something special.
---
Doors open at 7:00 pm
More information
Guitar Shorty
Legendary guitarist/vocalist Guitar Shorty is a giant in the blues world. Credited with influencing both Jimi Hendrix and Buddy Guy, Guitar Shorty has been electrifying audiences for five decades with his supercharged live shows and his incendiary recordings. Like a bare knuckled boxer, Shorty strikes with his blistering, physical guitar playing and his fierce vocals, connecting directly with body and soul. What really sets Shorty apart is his absolutely unpredictable, off-the-wall guitar playing. He reaches for sounds, riffs and licks that other blues players wouldn't even think of. Amazon.com says his guitar work "sounds like a caged tiger before feeding time. His molten guitar pours his psychedelicized solos like lava over anything in his path." The Chicago Reader declares, "Guitar Shorty is a battle-scarred hard-ass. He slices off his phrases and notes with homicidal fury. He is among the highest-energy blues entertainers on the scene."
Through the years, Shorty has performed with blues and R&B luminaries like Ray Charles, Sam Cooke, B.B. King, Guitar Slim and T-Bone Walker. He started playing with these legends while still in his teens and recorded a handful of singles for a variety of labels and an obscure LP during the first 30 years of his career. After decades of paying his dues (like so many unheralded American bluesmen), it took a tour of England to establish Shorty's fame in his home country. His recordings since then all received massive critical acclaim, and his renowned live performances have kept him constantly in demand all over the world. His 2004 Alligator Records debut, Watch Your Back, became his best-received, best-selling album to date. His 2006 follow-up, We The People, won the coveted Blues Music Award for Best Contemporary Blues Album Of The Year. Now, with his new CD, Bare Knuckle, Guitar Shorty unleashes a barrage of hard-hitting combinations of guitar, vocals and lyrics, hitting his listeners with some of the most awe-inspiring guitar and vocal work of his long career.
---
Doors open at 7:00 pm
More information
Savoy Brown
Ruf recording artists, Savoy Brown, are still rocking … 50 plus years after the band formed in London, England in 1965.
One of the first bands from the UK, after The Rolling Stones, to re-invent the blues in the mid-sixties, Savoy Brown, led by guitarist Kim Simmonds, continues to perform, record and influence today.
Modern rock music had its roots in the 1960's while bands, such as Savoy Brown, helped lay the foundation by combining blues, rock and psychedelia. The band is a veritable history of music, and musicians, with multiple former members going on to form bands such as Foghat, or to play for groups such as Fleetwood Mac, Black Sabbath, The Kinks and many more.
Founding member, Kim Simmonds, has a star on the Rock Walk of Fame and is recognized globally as one of the world's finest blues/rock players. Says Kim, "I enjoy entertaining, keeping the music alive and giving people inspiration".
Many of the band's original songs continue to be played on radio, TV and in movies. Shows including "CSI", HBO's "Vinyl", and a recent Jimi Hendrix movie biopic, gave life once again to Billboard hits such as "Tell Mama" and "Train To Nowhere".
These songs, and many others (from nearly fifty album releases), all hit high on the Billboard charts while Top 40 albums, such as "Hellbound Train", made the band a major concert headline act.
The band has headlined on all the world's finest stages, including the Royal Albert Hall, Madison Square Garden, Carnegie Hall and both Fillmores.
---
Doors open at 7:00 pm


This show has been rescheduled from the original date of April 4, 2020.
Tickets for the original date will be honored.
More information
MicroMania
California-based Vendetta Pro Wrestling presents the MicroMania Tour, bringing the Mighty Micros, women's matches featuring the Battling Bombshells, and other matches and entertainment for a well-rounded professional live event!
Our Micro Athletes and Battling Bombshells have been featured in WWE, Impact Wrestling, Lucha Libre AAA, Spike TV, MTV and hit feature films such as Jackass and Nacho Libre!
Mighty Micro Athletes, Battling Bombshells and Vendetta Pro Wrestling Stars! It's The MicroMania Tour!
Presented by Vendetta Pro Wrestling.
---
Doors open at 7:00 pm
More information
Jackyl
It's been 25 years since Jackyl shot out of Georgia with its wild, untamed and uncouth approach to rock 'n' roll. Equal parts hard rock, heavy metal and Southern rock, Jackyl formed in 1991 and brought back rock 'n' roll back — back to its down-to-earth, wild, fun-loving origins. Full of spit and swagger — and a "dirty" sense of humor to boot — Jackyl quickly earned a deal with Geffen Records. Jackyl's live shows were already legendary before the ink dried on the Geffen contract.
The 1992 self-titled debut album went platinum and featured notable rock radio hits like "Down On Me," "When Will It Rain," "I Stand Alone" and, most notably, "The Lumberjack," during which vocalist Jesse James Dupree performed a chain-saw solo. Dupree's chain-saw escapades on album and in concert became one of many Jackyl trademarks. With the release of 'Jackyl' hit the road and barely left it since. Just long enough to record new albums. Touring mates in those early days included Aerosmith, Kiss, ZZ Top, Ted Nugent and Damn Yankees. 1993 saw "Mental *@%.!" featured on 'The Beavis & Butt-head Experience,' a compilation album of songs tied in with MTV's hit cartoon series; it was eventually certified triple platinum. 1994 was one of the most important years in the band's career. The second album, 'Push Comes To Shove,' hit the streets and went gold. That August, Jackyl turned in one of the most acclaimed performances at Woodstock '94 in Saugerties, NY, and the resulting double album 'Woodstock 94' went platinum and included "Headed For Destruction" (a track from 'Push Comes To Shove'). The live recording 'Night Of The Living Dead' was released exclusively in Europe on Mayhem Records in 1996.
It wasn't long before Jackyl followed A&R legend John Kalodner (who had signed them to Geffen) to Sony Music's imprint Epic Records. 'Cut the Crap' was released in 1997 and benefited from two industry heavyweights overseeing its recording: producer Mike Fraser (AC/DC, Metallica) and mixer Kevin Shirley (silverchair, Aerosmith). This album spawned the rock radio hit "Locked and Loaded," which included guest vocals by AC/DC's Brian Johnson. It was the first time Johnson had ever recorded with any artist but AC/DC since he joined the band 17 years earlier. A collection of B-sides titled 'Stayin' Alive' appeared on Shimmering Tone Records in 1998 but the biggest highlight of the year was Geffen's release of the best-of collection 'Choice Cuts' and the related promotional events Jackyl did to help promote it.
The band earned two Guinness Book of World Records citations and the designation "The Hardest Working Band in Rock 'N' Roll" for performing 100 shows in 50 days as well as 21 shows in 24 hours. Dupree says the most grueling of the two was 21 shows in 24 hours; Jackyl completed that task in Texas, and the shows were all done with full lights and sound. The daytime sets were 45 minutes long whereas the ones done at nighttime were between 90 and 120 minutes long. Jackyl released 'Relentless' on Humidity Records in 2002. It contained the second collaboration with Brian Johnson, "Kill the Sunshine." Universal Music/Geffen Records also issued a Jackyl volume as part of its acclaimed '20th Century Masters – The Millennium Collection' best-of series in 2003. For a band that built its reputation as road warriors, it's surprising that a full-length live album meant for worldwide release did not appear until 2004 with the separate release of the 'Live at the Full Throttle Saloon' CD and DVD on Sanctuary Records. 'Live at the Full Throttle Saloon' was recorded and filmed in summer 2003 in Sturgis, South Dakota, as part of the legendary annual biker rally festivities held there.
In 2010, the band completed their release titled "My Moonshine Kicks Your Cocaine's Ass". Staying true to their working band roots, ever since 2008 Jackyl has been on the road playing the summer festival circuit as well as many other choice, off-season venues.
---
Doors open at 7:00 pm

More information
Geoff Tate
Can't you feel it coming? EMPIRE! Can't you hear it coming? EMPIRE! Here comes 2020 and that sound you hear and vibration you feel is GEOFF TATE and his band, Operation: Mindcrime, gearing up for their forthcoming tour of America beginning next spring that will celebrate the 30th Anniversary of EMPIRE. Released in August of 1990, the album spawned six singles ("Empire," "Silent Lucidity," "Best I Can," "Jet City Woman," "Another Rainy Night (without you)" and "Anybody Listening?") and is Queensryche's bestselling album to date with sales over three million units, achieving triple-platinum status.
GEOFF and the band — currently comprised of Kieran Robertson on guitar, Jack Ross on bass, Scott Moughton on guitar and Felix Bohnke on drums — will be performing all eleven songs from the album back-to-back, in its entirety. And to throw it completely over the top, the forthcoming shows will be kicked off by a complete performance of Queensryche's second studio album, Rage for Order, another eleven song gem that featured the singles, "Gonna Get Close to You," "The Whisper" and "Walk in the Shadows." Just a few years after its release in the summer of '86, Kerrang! magazine called it one of the "100 Greatest Heavy Metal Albums of All-Time."
That's right, both "Rage for Order" and "Empire" all in one night!
RDG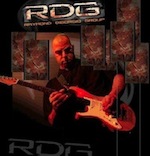 2003 Los Angeles Music Awards Winner "Instrumental Album of the Year"
2003 Los Angeles Music Awards Nominee "Guitarist of the Year"
2003 San Diego Music Awards Nominee "Best Rock Album"
---
Doors open at 7:00 pm
More information
Loudness
Loudness was formed in May 1981, after Akira TAKASAKI and Munetaka HIGUCHI left the Japanese pop band Lazy to explore heavier styles of music. Based on their early sound, it would seem that they wanted to become the "Van Halen" of Japan. Joined by the extremely capable vocalist Minoru NIIHARA (formerly from EARTHSHAKER) and Akira's childhood friend, Masayoshi YAMASHITA on bass guitar.
The Midnight Devils
The Midnight Devils are a high energy glam slam boogie woogie rock n roll band out of Omaha, NE. It's unique, it unpredictable, and it's covered in a heavy layer of glitter and lipstick. Mixing all the best with a heavy dose of rock n roll these high flyin'-gravity defyin'-over the top ridin' bad boys are down n dirty party monsters. The Midnight Devils are Sniper on lead guitar, Sam Spade on bass and vocals, and the indestructable Jimmy Mess behind the kit. Out on the road in support their debut album, The Midnight Devils have toured nationally as well as performed at the 2018 Rocklahoma Music Festival. Simply put it's loud, dirty, heart pounding rock n roll on steroids. combine the look and feel of Alice Cooper and Motley Crue with the boogie woogie of Elvis Presley and you have The Midnight Devils. Nothing even comes close.
---
Doors open at 7:00 pm
More information
Frank Marino & Mahogany Rush
He was born Francesco Antonio Marino on November 20, 1954 in Montreal, Canada. Half Italian and half Arabic, Frank is one of five children and only has a 7th grade education that even included a short stint in military school. "Those years were the late sixties and everyone was into the hippie peace movement and we were so busy getting stoned that we certainly didn't want to attend school. All we did besides getting stoned was listen to Hendrix, The Doors, The Beatles and a few others as well as getting involved in movements such as peace, love, anti-war etc. Those were definitely the days, not like now where many young people seem to be into negativism and hate".
It was during those days that his experimentation with LSD would lead him to what was later to become the definition of his life. As a young person doing far too much acid, he couldn't really understand when it finally caught up with him and gave him such an incredibly vivid experience that was so overwhelming, that it landed him in the hospital. "This experience became the basis of everything that I was to do in music, including the name Mahogany Rush, which was a description I would use to describe a certain sensation that I was having on the trip. The artwork on the albums, Child of the Novelty and Strange Universe are an artist's rendition of my trip as told by me to the artist, Ivan Schwartz, who has since passed away".
Since this early drug experience later became known to the press that covered his career, and since he played much in the style of Jimi Hendrix who had recently died, these sensationalists created stories that to this very day Frank has tried immensely and unsuccessfully to dismiss. "The most often heard story is that I took an overdose and woke up from a coma in the hospital and somehow became the spirit of Hendrix, or that I met this spirit and it entered me, endowing me with this amazing ability to play a guitar and magically know everything about it. Later on the story changed into a version that said I was in a car accident, died and came back as Jimi Hendrix in my body. They never ask me the truth and when I told them, they wouldn't listen. The short truth about it is that I learned how to play guitar while recuperating from my trip. The guitar became a soothing help for me because of my great fear of letting my mind wander back into the trip if I wasn't occupied and besides it was the only thing in the hospital relaxation room. I never even thought about the guitar before since I played the drums quite well anyway. I had this trip while Hendrix was still alive and began to play his music because it matched perfectly to what I was going through at the time".
It was only a few short years later after many different band members, that Frank Marino recorded his first album. "In the early years I played in a church and even on a float in a parade. I did mostly cover songs by The Doors, Hendrix, Pink Floyd, Cream, Johnny Winter, The Beatles and even The Grateful Dead as well as a few originals that I had written".
Frank Marino's music never reached the mainstream of popularity, but has had a devoted fan base that has grown over the years. Being sober now for over 35 years, he still plays with the enthusiasm that he's always had. Frank is into his music and doesn't really care for the business side of it and has always produced his own albums as well as writing and arranging all of the music. If you ever get a chance to see him play live, don't pass it up. I have been a devoted fan for 30 years and welcome any newcomers with open arms.
Taz Taylor
Taz Taylor was exposed at a very early age to the golden era of Rock Guitar playing. Michael Schenker in UFO and then in his own band MSG, Gary Moore in his late-70s/early-80s heyday, Randy Rhoads and Jake E. Lee and of course the early Van Halen albums, all left an indelible mark on the musical psyche of Taz.
---
Doors open at 7:00 pm
More information
Powerman 5000
1994 True Force
1997 Mega! Kung Fu Radio
1999 Tonight the Stars Revolt!
2001 Anyone for Doomsday
2003 Transform
2006 Destroy What You Enjoy
2009 Somewhere on the Other Side of Nowhere
2011 Copies, Clones and Replicants
2014 Builders of the Future
2017 New Wave
---
Doors open at 7:00 pm

LA Guns ft. Phil Lewis & Tracii Guns

This show has been rescheduled from the original date of April 24.
Tickets for the original date will be honored.
More information
LA Guns
Legends of the Sunset Strip in Hollywood, L.A. Guns starring Phil Lewis and Tracii Guns have released eleven studio albums over the span of almost 30 years, including Cocked & Loaded (1989), Hollywood Vampires (1991), and their critically-acclaimed The Missing Peace (2017), the highest selling release for Frontiers Music in 2017. They continue to excite their fans, old and new, with their kick-ass, high-energy rock n roll. Their twelfth release, The Devil You Know, released March 29, 2019 to the same critical acclaim. US Chart first week chart entries: #7 Top Current Hard Music Albums, #10 Independent Albums, #16 Top Current Rock Albums, #35 Top Current Albums, #45 Billboard Top Albums. UK Charts #12 Rock & Metal. #1 Amazon's Best Seller List.
Revelation 69
A power rock groove delivered with a sledge hammer.
Loud and rude with an infectious groove, turned up and tuned down, Revelation 69 serves up the shot and the chaser.
Fronted by John Hernandez (vocals & guitar) along with Johnny Jauregui (bass) and Tom Hogue (drums).
From San Diego CA. the 3 have teamed up to form a group that brings that bad boy vibe. Loud, proud and unashamed, Revelation 69 has arrived!!!
Fuzz Huzzi
Fuzz Huzzi has been a mainstay of the San Diego music scene since 1994. After a brief hiatus they are back with a fresh line up and new batch of songs. The trend of very personal and emotional lyrics with a high intensity live show for which the band gained renown over the years strives to reach new hights.
The future for Fuzz Huzzi has never looked so bright. With a new release in 2019 and an ever growing live schedule, the band is determined to build on their legacy rather than sit back and simply relive past victories.
---
Doors open at 7:00 pm
More information
Paul Thorn
"This is the culmination of my whole life in music, coming back to my gospel roots," says Paul Thorn about his newest album, Don't Let the Devil Ride. "My message on this record is 'let's get together' – I want to help lighten your load and make you smile."
The son of a preacher man, Mississippi-raised Thorn spent much of his childhood in church, participating in multiple weekly services with his father as well as at neighboring African American congregations, where he became entranced with the music whose infectious spirit is captured on the new album.
Don't Let the Devil Ride collects soulful songs originally cut by black southern gospel groups and features guests the Blind Boys of Alabama, The McCrary Sisters, the Preservation Hall Jazz Horns, and Bonnie Bishop.
---
Doors open at 7:00 pm

Limited seating available.
This show has been rescheduled from the original date of March 20.
Tickets for the original date will be honored.
More information
Berlin
"New music is the lifeblood of anybody making music— it's that creation, excitement, new babies [songs]! It inspires me and it inspires others," declares Terri Nunn, the charismatic and enigmatic singer of L.A.'s iconic synth electro-pop pioneers, BERLIN.
BERLIN will forever be recognized as the American progenitor of electro-pop artistry with sensually appealing lyrics. Few bands emerging from the era of BERLIN have achieved as far-reaching and long-lasting an impact and, rarely, such a timeless array of musical grooves. The Los Angeles-based band made its first national impression with the provocative single "Sex (I'm A…)" from the platinum-selling debut EP Pleasure Victim in 1982. "The Metro" and "No More Words" were also chart toppers, but it was the unforgettable, intimate, and strikingly beautiful love song, "Take My Breath Away" that took the band to another level. The ballad's defining role in the Tom Cruise film, Top Gun, helped solidify BERLIN's everlasting place in American pop-culture. The song was a #1 international hit and received both the Golden Globe and Academy Award for "Best Original Song" in 1986.
Currently, Nunn is recording a brand new BERLIN studio album with her original BERLIN band members and co-writers, John Crawford (bass) and David Diamond (keyboards).  The album is scheduled for release in mid 2019. The album is being produced by Australian producers Andy and Thom Mak. The album marks the first collaboration by Nunn, Crawford and Diamond since Love Life, the third BERLIN album, released in 1984.
Triple Deez
If you like Aretha Franklin, Wild Cherry, B B King, Bill Withers, Lady Antebellum, Indigo Girls, Fugees, Adele and more, you will enjoy this cover band.
---
Unless otherwise noted, doors open at 7:00pm and the first performance begins at 8:00pm.
Ramona Mainstage is an all ages venue.
Persons under 21 must be accompanied by a parent or guardian.
All patrons must show valid photo ID.
All ticket purchases are non-refundable.
Seating not guaranteed – first come, first served.
Call the ticket office for more information: 760-789-7008
Ramona Mainstage on Twitter
Ramona Mainstage on Facebook
Available for private parties, receptions & meetings — contact us for more information