North County San Diego's Premiere Concert Venue
| | |
| --- | --- |
| Don't believe us? | |
Upcoming Events
Doors open at 7:00 pm

More information
Red Hot Cholo Peppers
For over 30 years, the Red Hot Chili Peppers have captivated audiences with their high-energy shows and a special blend of funky rock n' roll. Being fans of fun, funk, and everything rock n roll, The Red Hot Cholo Peppers re-create the fan experience with a uniquely Southern California twist.
They are most definitely not your average tribute band.
"It's this instant vibe you get when you hear the name, people know it's a party." -David Strickland (Vocals, Guitar)
Clad in bandanas, flannels, and crashing parties with the same Cholo-style attitude you haven't seen since before your Tio got locked up, the Red Hot Cholo Peppers bring you all the hits of your favorite band with extra chili on top.
With decades of experience as professional musicians, this 4-piece band fully understands its role in providing fun and engaging entertainment wherever they play. They are professionals, who happen to love what they do and take pride in doing it well. Every show they play is carefully tailored to reach maximum audience engagement and their diversity as a band allows them to throw in some surprising non-RHCP covers that always get people dancing, singing along, and shouting "Orale!" together.
Sharing live music brings magic to the crowd that no other activity can. Fonzo Rios (Bass, Backing Vocals) says, "I love how it can bring so many different people together for a shared emotional experience." Every time they take the stage, the Red Hot Cholo Peppers want to bring you right along and share the fun that they have. You become a part of the show as we all remember the songs that sculpted us and our love of music.
---
Doors open at 7:00 pm

More information
Duran Duran Duran
Feel the Heat! In perfect sync with iconic legend Duran Duran's newest album release and world tour, the Ultimate Duran Duran Tribute Act (D3) launches a dynamic new campaign!
DURAN DURAN DURAN: Tradition and Evolution! D3 pays first-class homage to their beloved namesake, thrilling the legion of die-hard fans ("Duranies") dancers, and 80's music lovers. Since 2004, D3 has earned worldwide recognition, headlining at premier venues. ​Today's incarnation delivers unrivaled entertainment in videos and live performances, building upon a solid tradition of excellence.
NEW LINEUP ignites! D3 Tribute Act performs with a rotating cast of top-caliber entertainers, ensuring availability to fulfill engagements in multiple regions. D3 produces custom multimedia promotional materials, with photos and videos of the particular performers appearing at each show.  
The Lineup for the Ramona Mainstage event is Jamey Pacheco – Drums (formerly of the band Babylon A.D.) Ronnie Wagner – Bass, Paul Tolle – Lead Vocals, Aaron Archer – Guitars, Julia Finger, Paige Strafella – Vocals, and Mitch Ahtye – Keyboards.
---
Doors open at 7:00 pm
More information
Farm Truck
Combine a bit of Tom Petty, Steve Earle and Honky Tonk Rolling Stones, you come up with the sound of Farm Truck. One of San Diego's best and most exciting new Americana bands.
Beat Farmers
The Beat Farmers are a San Diego band. They have released over 10 albums, and have a world wide following. They have performed on Late Night with David Letterman and have performed on stages throughout the world.
Their music can be described as an amalgamation of roots rock, jangle pop, rockabilly, country rock, hard twang Americana, and cow punk.
The San Diego Reader summed up their sound as "like Bo Diddley, Creedence Clearwater Revival. Joe South, and The Yardbirds, ham fisted into a food processor, stuffed into a shotgun shell, and blasted into a beer keg at 3:00 in the morning.
Sara Petite
Multi San Diego Music Award winner Sara Petite is an amazing singer songwriter based out of San Diego Ca. Influenced by artists ranging from Loretta Lynn, Dolly Parton, Bruce Springsteen, and John Mellencamp, she is a true San Diego Outlaw. With over six albums to her credit, she is a must see artist.
Lady Psychiatrists Booth
Ashley E. Norton and Stephanie Groot form the nucleus of LPB. They have toured the world sharing their incredible vocal harmonies and musicianship. From quirky fun filled songs and stage banter, to heartfelt emotional songs that will leave a tear in your eye, LPB has the musical therapy you need.

---
Doors open at 7:00 pm

More information
All Men Are Brothers
AMAB are 6 seasoned musicians coming to rock your world with vintage Allman Brothers Band music.
Honoring this band's legacy of jam-band improvisation, no two shows are ever exactly the same. A killer blend of rock, blues, jazz, and the early foundations of southern rock – there is something for everyone! We get the women dancing, too. For those unfamiliar with Allman Brothers Band music, we turn people like you into fans.
Come see us re-create the Allman Brothers Band musical experience for you. We focus on the band's origins, showcasing the musicianship of Gregg Allman, Duane Allman, and Dickey Betts.
Cinco Hombres
Cinco Hombres is a tribute to the musical legacy of "That Lil' Ol Band from Texas"! However, we're not an impersonator act, but 5 veteran musicians from San Diego, CA that accurately recreates the studio magic of ZZ Top.
---
Doors open at 7:00 pm

More information
Jumping Jack Flash
The members of Jumping Jack Flash are not entirely sure what it is about this music that causes such a reaction in audiences, but they see it on a nightly basis—they see it in the audience's eyes, and on their faces. People rise to their feet and begin dancing, waving their arms in the air, singing along, but most of all– smiling! Soon the crowd is moving towards the stage, then packed up against it; some attempt to jump up on to the stage, while others lunge for one of the musicians.
JJF has performed at the elegant Winspear Performing Arts Center in Edmonton, Canada (1,000+), at the Pacific Amphitheater in Costa Mesa, Ca., and at theaters, amphitheaters, and casinos across the United States, and in Mexico; most recently in front of 12,000 fans in Mexicali.
---
Doors open at 7:00 pm

More information
Whitey Morgan
In a career spanning 15 years, Morgan has released five studio albums and a live recording from his hometown of Flint, Michigan. Additionally, he has toured relentlessly averaging over 125 shows annually. Rolling Stone has described him as a "Waylon Jennings acolyte.. modern day outlaw [with a] hard hitting blue-collar brand of music" while NPR Music hailed, "Staying close to the sound and subject matter of classic outlaw artists like Waylon Jennings, Merle Haggard and David Allan Coe, Morgan is poised to lead this hand-worn brand of country to the next generation." His most recent LP, Sonic Ranch (2015), was released to critical acclaim and praised by Detroit Free Press as, "a bold well-crafted album that doesn't forsake the gritty undercurrent running through Morgan's stuff."
---
Doors open at 7:00 pm
More information
Adam Calhoun
Before it all started Adam worked for a living on the southside of Chicago, as a blue collar worker in the Union. After a few videos on social media about life and our country went viral Adam quickly grew into a well known brand. He began his music career in 2018 with the official release of his album "America" that hit five #1 billboard charts, and ended up going gold.
Brodnax
I was born and raised in West Monroe Louisiana.
I am a provider for my family of 5. I am a student of the game.
Spent 20 yrs mastering my craft. Creating my own signature style and sound along the way. I am super competitive person and believe that Rap is no different than baseball or boxing.
Time to bring Real music back. Let the games begin.
Dusty Leigh
Dusty Leigh is far from your average performer. He started by combining the hardcore element of Hip-Hop with the wittiness of Pop and his style evolved to a genre he refers to as R&C – Rhythm and Country. The 31-year-old entertainer, hailing from Louisville, KY, prefers to set trends instead of following them, yet another reason he stands out in his state's largest city. Dusty's brand of witty wordplay has attracted a loyal following that call themselves the "Dust Gang." They range from die-hard rap heads to party-minded frat kids and four-wheel enthusiasts to suburban housewives. His music transcends color lines and embraces creativity with an adventurous mix of genres, appealing to a broad audience. Dusty Leigh is the voice of the new generation.
---
Doors open at 7:00 pm
More information
The Dickies
The Dickies were the clown princes of punk, not to mention surprisingly longstanding veterans of the L.A. scene. In fact, by the new millennium, they'd become the oldest surviving punk band still recording new material. In contrast to the snotty, intentionally offensive humor of many comedically inclined punk bands, the Dickies were winningly goofy, inspired mostly by trashy movies and other pop culture camp. Their covers were just as ridiculous as their originals, transforming arena rock anthems and bubblegum pop chestnuts alike into the loud, speed-blur punk-pop — basically the Ramones crossed with L.A. hardcore — that was their musical stock in trade. As the band got older, their music slowed down little by little, but their sound and their sense of humor stayed largely the same, and they were an avowed influence on new-school punkers like Green Day and the Offspring.
---
Doors open at 7:00 pm
More information
Geoff Tate
Multi-platinum selling, Grammy nominated singer/songwriter Geoff Tate is regarded as one of the most skilled vocalists in the rock genre with hundreds of modern, popular artists citing him and his band as a major influence. Combining social consciousness and expertly crafted lyrics with high-energy, melodically complex music, Geoff and his band have become internationally recognized as the thinking man's rock band.
In all, Geoff has recorded 12 studio albums; several live albums and will release his 2nd solo album in 2013. Queensrÿche has been nominated for a Grammy four times and has had their music featured in three feature films.
Since their inception, the band has sold over 25 million albums worldwide and has performed in over 46 countries.
Queensrÿche is world renowned for their innovative, trend-setting sound and continues to enjoy incredible success, performing for sold-out audiences worldwide.
Changing the band name to Operation Mindcrime, in 2014 Geoff began work on one of his most ambitious project, a three part concept album with the first album recorded early 2015
---
Doors open at 7:00 pm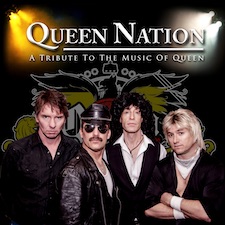 Limited seating available for this show.
More information
Queen Nation
There is little doubt among the pure rock community that the legendary band Queen and lead performer Freddie Mercury earn high ranks as one of the most powerful and iconic groups in rock history. Upon his death in 1991, a huge void was left in the rock concert world, which to this day has not yet been matched.
Queen Nation, a tribute to Queen, was formed in 2004 by David Hewitt / DMHE Music Agency. Queen Nation consists of: Gregory Finsley on vocals & keyboards as Freddie Mercury, Mike McManus on guitar as Brian May, Pete Burke on drums as Roger Taylor, and Parker Combs on bass as John Deacon. The mission of the show is to carry on the musical torch and pay homage to the golden age of vintage Queen concerts. In 2013 Queen Nation was recognized as The World's Greatest Queen Tribute by Mark Cuban, Ryan Seacrest and their cutting edge network AXS TV. Queen Nation was given a 1hr LIVE national broadcast from the Roxy in Hollywood, to 40 million viewers. A coinciding compilation album was released by AXS TV featuring two tracks recorded by Queen Nation. Most recently, Queen Nation was selected by The Los Angeles Angels of Anaheim baseball team to perform on the infield of Angel Stadium as part of their Flashback Weekend.
Queen Nation's live 100-minute production of Queen's greatest hits preserves the image, sound, and stage persona of vintage Queen. Audiences are amazed at the accuracy of Queen Nation's live retrospective journey through such Queen songs as We Will Rock You – We Are The Champions – Bohemian Rhapsody – Crazy Little Thing Called Love – You're My Best Friend – Another One Bites The Dust – Under Pressure and many more. They have performed in front of thousands of people at casinos, fairs, sports arenas and private affairs.
---
Doors open at 7:00 pm
More information
Ho Ho Hoey
This Boston born guitar player & solo artist has been touring for over two decades with 20 albums over the span of his career. Among them is his very popular, Ho Ho Hoey Complete Collection, which combines all 3 volumes of his holiday albums, capturing 37 of your favorite Christmas classics. Hoey has been a driving force behind instrumental rock Christmas music since 1995 after his version of "The Twelve Days Of Christmas" hit the airwaves with its crunchy guitars and metal flavor. Gary's annual Ho Ho Hoey Rockin' Holiday Tour has become a tradition with radio stations and families coast-to-coast. Hoey's live show encompasses everything from his holiday music to the older hits like "Hocus Pocus" to new songs from his latest album, Dust & Bones. It's a must see show for adults and kids alike.
After more than two decades of touring it's also made him fortunate enough to give back in the process, helping the Veterans with clothing drives, Toys for Tots and food drives. Hoey's music is featured in Hallmark greeting cards and the Christmas movie, "Deck The Halls" staring Danny Devito. Hoey's rockin holiday show is a family friendly all ages event. Gary comes out after every show to sign autographs and take pictures with the fans. Get together and celebrate this holiday season as only Hoey can. This year also marks his 8th Annual Ho Ho Hoey Guitar Give-Away. To enter and for more details, visit www.garyhoey.com.
---
Doors open at 7:00 pm

More information
Guardians of the Jukebox
Rich Ward's Guardians Of The Jukebox, The Definitive Tribute to MTV's Pop, Rock, New Wave and New Romantic Era. Feat. members of Fozzy & Stuck Mojo.
Aptly described a "A visual and sonic highlight reel of one of the most influential decades in music history," the Guardians of the Jukebox is a five star, nostalgia, 80's juggernaut! Their shows are packed with high energy and smash hits, accompanied by a video backdrop of everything 80's featuring music videos, movie clips, and iconic sion moments.
---
Doors open at 7:00 pm

Limited seating available.
More information
Berlin
This Los Angeles-based synth pop group, founded by bassist John Crawford, singer Terri Nunn, and keyboard player David Diamond, made its first national impression with the provocative single "Sex (I'm A…)" from the gold-selling debut EP Pleasure Victim in 1982. The group was filled out by guitarist Rick Olsen, keyboard player Matt Reid, and drummer Rob Brill. Berlin's first full-length LP was the gold Love Life in 1984. In 1985, the group was pared down to a trio of Crawford, Nunn, and Brill. Berlin topped the charts in 1986 with the single "Take My Breath Away," the love theme from the Tom Cruise movie Top Gun.
Nunn left for a solo career in 1987, and Crawford and Brill teamed up in the Big F. In 1999, the band reunited to record some new studio material and also performed a concert, which, along with the new songs, was released as 2000's Berlin Live: Sacred and Profane. This was followed a year later by a flurry of recording sessions that included co-writing tracks with Billy Corgan, among others. The end result, Voyeur, was their first full-length studio release in over 15 years
---
Doors open at 7:00 pm

Note: This show is in 2023
More information
Loudness
Loudness was formed in May 1981, after Akira TAKASAKI and Munetaka HIGUCHI left the Japanese pop band Lazy to explore heavier styles of music. Based on their early sound, it would seem that they wanted to become the "Van Halen" of Japan. Joined by the extremely capable vocalist Minoru NIIHARA (formerly from EARTHSHAKER) and Akira's childhood friend, Masayoshi YAMASHITA on bass guitar.
The Midnight Devils
The Midnight Devils are a high energy glam slam boogie woogie rock n roll band out of Omaha, NE. It's unique, it unpredictable, and it's covered in a heavy layer of glitter and lipstick. Mixing all the best with a heavy dose of rock n roll these high flyin'-gravity defyin'-over the top ridin' bad boys are down n dirty party monsters. The Midnight Devils are Sniper on lead guitar, Sam Spade on bass and vocals, and the indestructable Jimmy Mess behind the kit. Out on the road in support their debut album, The Midnight Devils have toured nationally as well as performed at the 2018 Rocklahoma Music Festival. Simply put it's loud, dirty, heart pounding rock n roll on steroids. combine the look and feel of Alice Cooper and Motley Crue with the boogie woogie of Elvis Presley and you have The Midnight Devils. Nothing even comes close.
---
Unless otherwise noted, doors open at 7:00pm and the first performance begins at 8:00pm.
Ramona Mainstage is an all ages venue.
Persons under 21 must be accompanied by a parent or guardian.
All patrons must show valid photo ID.
All ticket purchases are non-refundable.
Seating not guaranteed – first come, first served.
Call the ticket office for more information: 760-789-7008
Ramona Mainstage on Twitter
Ramona Mainstage on Facebook
Available for private parties, receptions & meetings — contact us for more information
---