North County San Diego's Premiere Concert Venue
| | |
| --- | --- |
| Don't believe us? | |
Upcoming Events
Doors open at 7:00 pm
More information
Rick Estrin & The Nightcats
Wildly fun, musically fearless and bursting with bravado, 2018's Blues Music Award-winning Band Of The Year Rick Estrin & The Nightcats have created one of the blues' most instantly recognizable sounds and no-holds-barred styles. Featuring the world-class talents of harmonica master, songwriter and vocalist Rick Estrin, guitar wunderkind Chris "Kid" Andersen, keyboard wizard Lorenzo Farrell and dynamic drummer Alex Pettersen, Rick Estrin & The Nightcats serve up sharp and incisive original blues and gritty roadhouse rock 'n' roll. With his wily and unforgettable original songs and his hipster, street-smart vocals, no one on the blues scene writes or sings like Rick Estrin.
DownBeat says, "Rick Estrin sings and writes songs like the brightest wiseguy in all of bluesland and blows harmonica as if he learned at the knee of Little Walter." Live, the band is simply unbeatable. They deliver a high-energy show capable of bringing any audience to its feet. Rick Estrin & The Nightcats' latest Alligator album, Groovin' In Greaseland, features 13 original songs, 11 by Estrin (including one co-written with Andersen), and one each by Andersen and Farrell. The band's dazzling performances bring the songs to life as richly detailed characters spill their secrets and share their stories. The Chicago Sun-Timessays, "These are serious musicians having a hotter than hot good time. It's tough to stay in your seat when Estrin and his musical cohorts get cooking."
---
Doors open at 7:00 pm

Kingdom Come – Featuring Four Original Members and singer Keith St. John (formerly of Montrose/Lynch Mob)
More information
Kingdom Come
Featuring Four Original Members and singer Keith St. John (formerly of Montrose/Lynch Mob)
BigToothComb
Established in 1996 in Seattle, WA. BTC shared the stage with national and local acts. Continuing the tradition of Rock & Roll through lineup changes and relocations. Now rooted in San Diego, CA. the current lineup hammers on the time tested hand crafted music of the Big Tooth Comb!
ElectroMagnetic
ProgMathMetal band from San Diego, CA.
Taz Taylor
Taz Taylor was exposed at a very early age to the golden era of Rock Guitar playing. Michael Schenker in UFO and then in his own band MSG, Gary Moore in his late-70s/early-80s heyday, Randy Rhoads and Jake E. Lee and of course the early Van Halen albums, all left an indelible mark on the musical psyche of Taz.
---
Doors open at 7:00 pm
More information
Coco Montoya
From his early days as a drummer to his current status as one of the top-drawing guitarists and vocalists on the blues-rock scene, Montoya earned his status through years of hard work and constant touring. And it all started with a chance meeting in the mid-1970s with legendary bluesman Albert Collins, who offered Montoya a gig as his drummer. Albert took an immediate liking to Montoya, becoming his mentor and teaching his new protégé the secrets of Collins' "icy hot" style of blues guitar.
Five years later, British blues icon John Mayall happened to catch Montoya at a jam session and was blown away. Mayall recruited him as guitarist in the legendary Bluesbreakers, and Montoya spent the next 10 years touring non-stop, proving himself to be a world-class guitar master in one of the most renowned blues bands in existence.
Averaging over 150 tour dates a year, Montoya continues to pack clubs and theaters around the world. He has played major festivals, including the New Orleans Jazz & Heritage Festival, The Chicago Blues Festival, The San Francisco Blues Festival and Canada's International Jazz Festival.
---
Doors open at 7:00 pm
More information
Grim Reaper
Grim Reaper were originally formed in 1979 in Droitwich. They were discovered after winning a Battle of the Bands featuring over 100 bands. They were eventually signed to Darryl Johnston's Ebony Records, and had a track featured on the Ebony compilation LP "Heavy Metal Heroes". The lineup finalised to that of Nick Bowcott, Steve Grimmett, Dave Wanklin and Lee Harris. Their debut album "See You in Hell" was released in 1983 by Ebony and was distributed worldwide through RCA Records in 1984.
The current lineup continues to tour the UK and Europe. They did a short tour of Greece and Cyprus in November 2011 and released the Limited Edition CD EP "Live in Europe 2011". The band gained worldwide attention during the tour when a video of them playing a small gig at Riff's bar earlier in the year started getting numerous plays on YouTube. This was due to a Greek fan pointing out that Steve looked just like their then finance minister Evangelos Venizelos! The video started to increase in views, resulting in the band getting coverage in national Greek press and front page features in the media magazines. Steve was interviewed many times during the tour. The clip was shown and discussed on national tv. By the end of the tour the video had been viewed more than 250,000 times! It gave Greek fans some light hearted distraction during the tough financial times they were dealing with. The tour took the band across Greece and into Cyprus with well received shows in Athens and Thessaloniki.
Symbolic
As a heavy-hitting dynamic force hailing from the power/prog metal midst of the San Diego, California music scene, Symbolic combines their melodic energy and excitement for what will be their fifth CD later this year.
Since the first three years of their conception, increasingly impressive efforts helped build a strong following locally and internationally. Opening for well-known national acts such as Adrenaline Mob, Fates Warning, UFO, Brian Wheat (of Tesla fame), PHILM with Dave Lombardo, guitar legend Michael Schenker, Doro Pesch and others, it was no surprise that Symbolic found themselves in very close company of great music notables.
---
Doors open at 7:00 pm

More information
MicroMania
California-based Vendetta Pro Wrestling presents the MicroMania Tour, bringing the Mighty Micros, women's matches featuring the Battling Bombshells, and other matches and entertainment for a well-rounded professional live event!
Our Micro Athletes and Battling Bombshells have been featured in WWE, Impact Wrestling, Lucha Libre AAA, Spike TV, MTV and hit feature films such as Jackass and Nacho Libre!
Mighty Micro Athletes, Battling Bombshells and Vendetta Pro Wrestling Stars! It's The MicroMania Tour!
Presented by Vendetta Pro Wrestling.
---
Doors open at 7:00 pm
More information
Ho Ho Hoey
This Boston born guitar player & solo artist has been touring for over two decades with 20 albums over the span of his career. Among them is his very popular, Ho Ho Hoey Complete Collection, which combines all 3 volumes of his holiday albums, capturing 37 of your favorite Christmas classics. Hoey has been a driving force behind instrumental rock Christmas music since 1995 after his version of "The Twelve Days Of Christmas" hit the airwaves with its crunchy guitars and metal flavor. Gary's annual Ho Ho Hoey Rockin' Holiday Tour has become a tradition with radio stations and families coast-to-coast. Hoey's live show encompasses everything from his holiday music to the older hits like "Hocus Pocus" to new songs from his latest album, Dust & Bones. It's a must see show for adults and kids alike.
After more than two decades of touring it's also made him fortunate enough to give back in the process, helping the Veterans with clothing drives, Toys for Tots and food drives. Hoey's music is featured in Hallmark greeting cards and the Christmas movie, "Deck The Halls" staring Danny Devito. Hoey's rockin holiday show is a family friendly all ages event. Gary comes out after every show to sign autographs and take pictures with the fans. Get together and celebrate this holiday season as only Hoey can. This year also marks his 8th Annual Ho Ho Hoey Guitar Give-Away. To enter and for more details, visit www.garyhoey.com.
RDG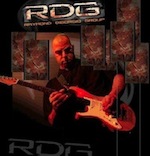 2003 Los Angeles Music Awards Winner "Instrumental Album of the Year"
2003 Los Angeles Music Awards Nominee "Guitarist of the Year"
2003 San Diego Music Awards Nominee "Best Rock Album"
Taz Taylor
Taz Taylor was exposed at a very early age to the golden era of Rock Guitar playing. Michael Schenker in UFO and then in his own band MSG, Gary Moore in his late-70s/early-80s heyday, Randy Rhoads and Jake E. Lee and of course the early Van Halen albums, all left an indelible mark on the musical psyche of Taz.
---
Doors open at 7:00 pm
More information
Artimus Pyle
More than just a "tribute" to Lynyrd Skynyrd a tribute to the man that defined it. Artimus Pyle has said, "If it wasn't for Ronnie, no one would know my name." Since his departure from Skynyrd in 1991 , Artimus Pyle's career has led him down an amazing path of solo records and projects culminating into one the finest tributes to southern rock royalty. The Artimus Pyle Band is a high energy, true to the music, and true to the era rock group. One of the few that is on the road today. Artimus Pyle, Brad Durden, Jerry Lyda, Dave Fowler, and Scott Raines are not only a group of friends and contemporaries but a group with some of the most seasoned musician in the southeast.
APB delivers hit after hit after hit, night after night after night. From Freebird to Sweet Home Alabama, APB gives fans the best of Skynyrd with one of men who made it!
Southern Reign
Authentic, drive, passion and heartfelt are just a few words that describe Southern Reign's music. Songs that tell stories of real life experiences. Carrying the torch for our southern rock band favorites like Lynyrd Skynyrd, The Outlaws, Allman Brothers Band, Marshall Tucker, Etc. True blue collar, get your hands dirty, southern rock music.
---
Doors open at 7:00 pm
More information
Uli Jon Roth
Uli Jon Roth is a true multi-instrumentalist who writes his own musical scores and arrangements. He is also a music director, paints realistic oil paintings, writes his own poetry as well as philosophical treaties.
Uli invented his own unique instrument – the by now legendary 6-octave Sky guitar which is without peer.
He produces his own albums and directs his own videos. Artistically he has been an inspiration to many of his fellow artists as well as his audience and continues to be so. He has been cited by countless guitarists from all over the world as one of their main influences.
Widely recognized as perhaps the single most important protagonist of Neo-classical guitar playing, Uli is seen by many as a trend-setter who has often been considerably ahead of his time.
---
Unless otherwise noted, doors open at 7:00pm and the first performance begins at 8:00pm.
Ramona Mainstage is an all ages venue. Persons under 21 must be accompanied by a parent.
All patrons must show valid photo ID.
All ticket purchases are non-refundable.
Seating not guaranteed – first come, first served.
It's here!
Updated bar
Full Liquor License
Lobby renovation
New Menu – Old Town Bar-B-Que – Inside Ramona Mainstage
Ribs · Brisket · Roast Beef · Tri-Tip · Chicken
Fine Dining – Dinner and a show?
The MainCourse Restaurant is now accepting reservations.

Right next door!
Call the ticket office for more information: 760-789-7008
Ramona Mainstage on Twitter
Ramona Mainstage on Facebook
Available for private parties, receptions & meetings — contact us for more information