August 3, 2022 · Doors open at 19:00
Richie Kotzen
Richie Kotzen has always been on a clear, laser-focused mission as an artist. While he is rightfully acknowledged worldwide for being a stellar guitar player, an emotive singer, and, frankly, a balls-out dynamic live performer to boot, Kotzen is quite aware he must maintain an ever-vigilant eye on ensuring one particularly important creative arrow in his artistic quiver continues to be properly nurtured — and that is his songwriting.
"My whole existence has been driven by songs," Kotzen admits. "I realized when I was very, very young that if I didn't have a song to sing that, was mine, I probably wouldn't have much of a future as an artist. That's where I come from. It's like I get to live my dream scenario, because my job is doing what I love to do, which is making music. It's how I live."
Good songs are indeed Kotzen's creative stock in trade, and the man has spent decades making sure he delivers the goods on a consistent basis. As a vocalist, Kotzen's impassioned style exists at the crossroads where the likes of Paul Rodgers, Terence Trent D'Arby (better known these days as Sananda Maitreya), and Rod Stewart meet. All that primal vocal energy also feeds into his love of great songwriting. To that end, Kotzen cites Daryl Hall and Don Henley as two legendary songwriters he respects and looks up to, both of whom he takes cues from for inspiration. "I'm more of a conversational writer," Kotzen explains. "I don't write about aliens and spaceships. It's more about what I'm thinking, and what I'm feeling. Here's the thing — I wait. I wait until I have something to say — and usually, that's when it all comes together. When something strikes me, I'll sing it into my phone, and then it'll either live there and wait until another day, or I'll work on it and it'll end up on an album. That's my process."
In addition to that creative benchmark and his ongoing role as the frontman of the quite formidable rocktastic three-piece band known as The Winery Dogs, Kotzen is an avowed, inveterate solo artist with 22 albums released to date under his own name. None of them are more personally affecting than his February 2020 three-disc retrospectacle 50 FOR 50, released via Kotzen's own Headroom-Inc. label. Ostensibly intended to celebrate his 50th birthday at the front end of that fateful year, Kotzen found the genesis of 50 FOR 50 by combing through his personal archives to hone in on 50 tracks in various stages of almost-completion in order to come up with the right finishing touches to get them across the finish line. In the process, many of these songs took on a much bigger weight than the songwriter had perhaps initially envisioned.
"I still think it's one of the best things I've done," Kotzen declares. "And I'm still super-excited about it. A lot of times folks think everything you write about literally happened to you, but sometimes you may write a song about something you saw someone else go through. You may fabricate scenarios and characters from your own mind without even realizing you're doing it, so the source of creativity becomes much broader than strictly writing about what happened to you specifically."
Since Kotzen's planned cross-country tour to support 50 FOR 50 around the album's initial release timeframe was unfortunately derailed due to the pandemic, he's now set to return to the live stage with a vengeance in the power-trio format he loves so well, starting in August 2022 to make up those earlier dates as well as play in a number of additional venues. After all, playing his music live is what brings everything together. "I like the flexibility in the level of improvisation I can do in that trio format. I go to that place in my head where I know what I'm feeling when I'm singing onstage, and I connect with it," Kotzen observes.
Understanding the imprint of his own global artistic reach ultimately brings Richie Kotzen full circle with the feelings evoked by the music he cherished during his own youth, not to mention his regard for the musicians who made it. "Thankfully, I've been very lucky in that way," he concludes. "People tend to gravitate toward others who are carved out of certain like-minded stones, and then you figure out how you fit into each other's orbit. Me, I like to do that with my music." Considering how the impact of Kotzen's ever-expanding catalog stretches to the literal edge of the Earth, we expect the shared orbit of his songs and what they mean to his listenership and fanbase at large will only continue to widen.
Check out some newer video releases below, as well as some older tracks.
RDG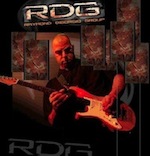 2003 Los Angeles Music Awards Winner "Instrumental Album of the Year"
2003 Los Angeles Music Awards Nominee "Guitarist of the Year"
2003 San Diego Music Awards Nominee "Best Rock Album"