February 16, 2019 · Doors open at 7:00 pm
The Ike Willis Project
Ike Willis is an American singer and guitarist who was a regular sideman for Frank Zappa, first joining Zappa's band for the fall 1978 tour and remaining in the band for several years.
Ike did not tour with Zappa in 1981 and 1982 for personal reasons, but returned to touring with Zappa for his final two tours in 1984 (which Zappa intended at the time to be his final tour) and 1988.
Ike currently tours with several Frank Zappa tribute bands including ZAPPATiKA, Ossi Duri, Project/Object, Pojama People and Ugly Radio Rebellion. He's also performed several times with the Brazilian Zappa cover band, The Central Scrutinizer Band, The Muffin Men, and with the Italian band Elio e le Storie Tese.
Additionally, he has appeared multiple times at the annual Zappanale festival in Bad Doberan, Germany.
Ike is most recognized for his involvement in Zappa records such as playing Joe in Joe's Garage, providing vocals on Tinsel Town Rebellion, You Are What You Is, and The Man from Utopia, and as the title character and narrator in Zappa's off-Broadway-styled conceptual musical Thing-Fish.
Pet Shark
Pet Shark is a progressive rock, instrumental band from Orange County, California featuring and co-founded by Keith Moreland on guitar, and Ted Morton on drums, percussion, keyboards and other various sound effects.
Bass Guitarist Matt Bissonette recorded on the first and second album, but because of his busy recording and touring schedule (with Elton John), he is not able to join the band for the live shows. So they've been joined by bass guitarist Russ Reshaw who has been on the road with the band Two or More for the last ten years, playing over 120 dates per year. Russ has also performed with Bobby Kimball, former lead singer of the band Toto. Russ is an amazing bass player, but best of all, he's a great guy. The band is very pleased to have him.
They are all seasoned professionals both in the studio and at live performances. Collectively, they have played with such musicians as Crystal Lewis, Dennis Agajanian, Darryl Mansfield, John and Anne Barbour, Steve Camp, Terry Clark, Two or More, Bryan Duncan, Bobby Kimball, and countless others.
RDG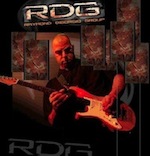 2003 Los Angeles Music Awards Winner "Instrumental Album of the Year"
2003 Los Angeles Music Awards Nominee "Guitarist of the Year"
2003 San Diego Music Awards Nominee "Best Rock Album"