December 21, 2019 · Doors open at 7:00 pm
Ho Ho Hoey
This Boston born guitar player & solo artist has been touring for over two decades with 20 albums over the span of his career. Among them is his very popular, Ho Ho Hoey Complete Collection, which combines all 3 volumes of his holiday albums, capturing 37 of your favorite Christmas classics. Hoey has been a driving force behind instrumental rock Christmas music since 1995 after his version of "The Twelve Days Of Christmas" hit the airwaves with its crunchy guitars and metal flavor. Gary's annual Ho Ho Hoey Rockin' Holiday Tour has become a tradition with radio stations and families coast-to-coast. Hoey's live show encompasses everything from his holiday music to the older hits like "Hocus Pocus" to new songs from his latest album, Dust & Bones. It's a must see show for adults and kids alike.
After more than two decades of touring it's also made him fortunate enough to give back in the process, helping the Veterans with clothing drives, Toys for Tots and food drives. Hoey's music is featured in Hallmark greeting cards and the Christmas movie, "Deck The Halls" staring Danny Devito. Hoey's rockin holiday show is a family friendly all ages event. Gary comes out after every show to sign autographs and take pictures with the fans. Get together and celebrate this holiday season as only Hoey can. This year also marks his 8th Annual Ho Ho Hoey Guitar Give-Away. To enter and for more details, visit www.garyhoey.com.
RDG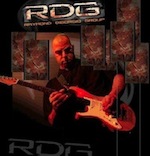 2003 Los Angeles Music Awards Winner "Instrumental Album of the Year"
2003 Los Angeles Music Awards Nominee "Guitarist of the Year"
2003 San Diego Music Awards Nominee "Best Rock Album"
Pet Shark
Pet Shark is a progressive rock, instrumental band from Orange County, California featuring and co-founded by Keith Moreland on guitar, and Ted Morton on drums, percussion, keyboards and other various sound effects.
They are seasoned professionals both in the studio and at live performances. Collectively, they have played with such musicians as Crystal Lewis, Dennis Agajanian, Darryl Mansfield, John and Anne Barbour, Steve Camp, Terry Clark, Two or More, Bryan Duncan, Bobby Kimball, and countless others.